زرنیش خان کو شوہر سے سالگرہ کا سرپرائز ملا :تصاویر
زرنیش خان کی ابھی سالگرہ کا تھوڑا سا جشن تھا اور پتا چلا ، حقیقت میں اس کا اہتمام ان کے شوہر نے کیا تھا۔
بہت سے لوگوں کو حیرت کا سامنا کرنا پڑتا ہے جب انہیں معلوم ہوتا ہے کہ اس کی شادی ہوگئی ہے کیونکہ زرنش اس کے بارے میں اکثر بات نہیں کرتی ہے۔
اس کی شادی اس کی کزن سے ہوئی جب وہ 17 سال کی تھی اور بعد میں تفریحی صنعت میں شامل ہوگئی۔ ہم ان کی شادی کی تصاویر انٹرنیٹ پر نہیں دیکھتے ہیں اور اداکارہ خود بھی اپنی ذاتی زندگی کو دائرے سے دور رکھتی ہیں۔ یہی وجہ ہے کہ بہت سے لوگ نہیں جانتے ہیں کہ وہ پہلے ہی خوشی سے شادی شدہ عورت ہے۔
اگر آپ حیران ہیں تو ، یہ وہ آدمی ہے جس سے اس نے شادی کی ہے۔
اور اسی آدمی نے حال ہی میں اپنی خوبصورت بیوی کو سالگرہ کا تعجب دیا۔
زرنیش خان نے گذشتہ روز اپنی سنہری سالگرہ کی تقریب سے منسلک تصاویر شیئر کیں اور انکشاف کیا کہ ان کے شوہر نے گھر سے دور رہتے ہوئے یہ سب کیا تھا۔ بظاہر ، سب سے پہلے گھر چھوڑنا ان کی پسند نہیں تھا ، بلکہ اسے وہاں سے ہی روانہ کردیا گیا تھا۔
لیکن جب وہ واپس آئی تو اس کے گھر کو سنہری اور نارنجی رنگ کے غباروں سے خوبصورتی سے سجایا گیا تھا اور دو خوبصورت کیک اس کا انتظار کر رہے تھے۔
"جب آپ کے شوہر نے آپ کو گھر سے یہ کہتے ہوئے روانہ کیا ہے کہ اس کے پاس کام ہے اور آپ یہ فرض کر رہے ہیں کہ یہ کوئی شے ہے لیکن یہ حیرت کی بات ہے۔ !! شکریہ میری حیرت کی اتنی حیرت کی وجہ سے۔ "
آئیے اس حیرت انگیز واقعہ سے تمام خوبصورت تصاویر چیک کرتے ہیں۔
Zarnish Khan's birthday was just a bit of a celebration and it turned out that in fact it was arranged by her husband.
Many people are surprised when they find out that she is married because Zarnish does not talk about it often.
She married her cousin when she was 17 and later joined the entertainment industry. We don't see their wedding photos on the internet and the actress herself keeps her personal life out of the realm. That is why many people do not know that she is already a happily married woman.
If you're wondering, this is the man she married.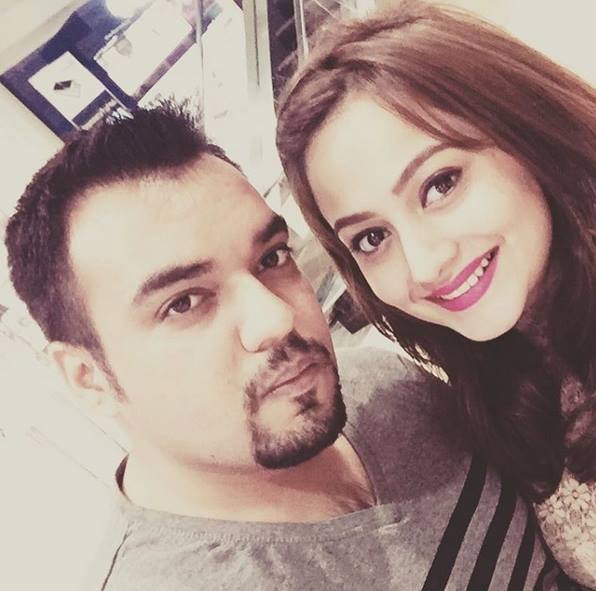 And the same man recently gave his beautiful wife a birthday present.
Zarnish Khan shared photos related to her golden birthday party yesterday and revealed that her husband had done all this while away from home. Apparently, he did not like to leave home at first, but was sent away.
But when she returned, her house was beautifully decorated with golden and orange balloons, and two beautiful cakes awaited her.
"When your husband leaves you at home saying he has a job and you're assuming it's something but it's amazing. !! Lol. Thank you for my surprise. To my surprise. "
Let's check out all the beautiful pictures from this amazing event.