راولپنڈی کی رہنے والی ایڈونچر لڑکی کی شادی کے ٹو پر ہوئی
حال ہی میں ، راولپنڈی کی ایک مہم جو لڑکی قراقرم رینج میں واقع ، کے 2 پر اپنی حیرت انگیز شادی کی تصویر کی وجہ سے سوشل میڈیا پر وائرل ہوگئی ہے۔
نائلہ کیانی نے اسے سمندر کی سطح سے 8،611 میٹر بلند دلہن کی تصویر شوٹ کے ساتھ ہی اسے اگلی سطح تک پہنچا دیا! نائلہ کیانی نے کہا کہ ان کی خواہش تھی کہ کے 2 بیس کیمپ میں شادی کی تقریب کا انعقاد کیا جائے۔
انہوں نے کہا ، "اب میری خواہش پوری ہوگئی ہے۔"
پورٹرز ، ٹریکر ، کوہ پیما سب نے نائلہ کی شادی میں گلگت بلتستان میں گایا اور ناچ لیا جو کے ٹو کے بیس کیمپ میں ہوا تھا۔ مہم جوئی والی دلہن نے پہاڑ چوغوری کے سامنے ، جو K2 کے نام سے مشہور ہے ، کے سامنے دلہن کے فوٹو شوٹ (ایک مناسب دلہن کے لباس کے ساتھ مکمل) فرش پر ہر ایک کے جبڑے چھوڑ دیئے۔
بہادر دلہن کوئی دوغلا پن نہیں ہے ، کیوں کہ وہ کونکورڈیا ، بریڈ پیک جی 1 اور جی 2 جیسے اونچے پہاڑوں میں ٹریک کرتی رہی ہے۔ ہم امید کرتے ہیں کہ اس کا شوہر بھی ایک اچھا کوہ پیما ہے کیونکہ کچھ ہمیں بتاتا ہے کہ شادی کی سالگرہ ماؤنٹ ایورسٹ پر ہوسکتی ہے!
Recently, an adventurous Rawalpindi girl went viral on social media for her amazing wedding photo on K2, which is in the Karakoram Range.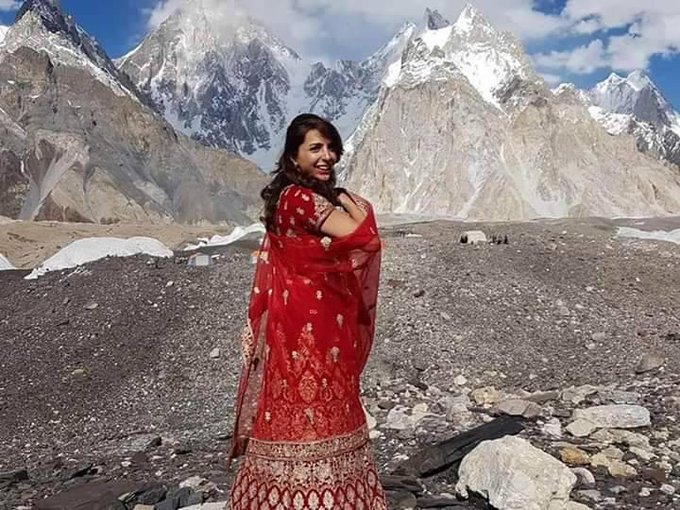 Naila Kayani took it to the next level when she had her bridal photo shoot at 8,611 meters above sea level! Naila Kayani said she would like to hold the wedding ceremony at K2 Base Camp.
"Now my wish has been granted," she said.
Porter Trekkers climbers sang and danced in Gilgit-Baltistan at Naila's wedding, which took place in the base camp of K2. The adventurous bride left all her jaws on the floor with her breathtaking bridal photo shoot (complete with a real wedding dress) in front of Mount Choghori, popularly known as K2.
The adventurous bride is not a beginner since she has trekked in high mountains like Concordia, Brad Pack G1 and G2. We hope that her husband is also a good climber because something tells us that the wedding day could be on Mount Everest!