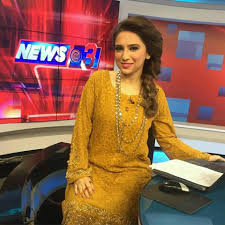 Maria Memon, the famous Pakistani news anchor and journalist, tested positive for Corona Virus. She used social media to publish the news and tackle the stigma associated with the disease.
The journalist, news anchor and presenter is currently working for ARY News on the Sawaal Yeh Hai show. Maria holds a degree in software engineering from Hamdard University, but decided to continue her career in the media. She was honored with many successes and awards. In 2017, the journalist received the Speaker's Democracy Award from the British House of Commons.
Maria Memon, who started her career alongside Najam Sethi at GEO English, used social media to share her story. She said,
"2 days ago, I felt mild symptoms & immediately got myself tested for COVID-19. Results are here, I am positive & currently self isolating. It is very important to discourage social stigma related to COVID-19. Be socially responsible. Isolate , get tested & let people know about your condition"

She also posted a video pointing out that people either don't test and hide the results from others. Memon believes that sharing the news shouldn't be a shame if you test positive for COVID-19. The majority of the people came to her support and wished her a speedy recovery and further endorse her message.
The first step in ending this pandemic begins with accepting it as a serious illness and following all SOPs set by health professionals. If tested positive; one should let their relatives and co-workers know in order to protect them from harm in the future. We wish Maria Memon a speedy recovery and hope that the public hears her message loud and clear.
[ماریہ میمن نے کورونا وائرس کو پکڑ لیا [ویڈیو
پاکستان کی مشہور نیوز اینکر اور صحافی ماریہ میمن نے کورونا وائرس کے لئے مثبت تجربہ کیا۔ وہ خبریں شائع کرنے اور اس بیماری سے وابستہ بدنما داغ سے نمٹنے کے لئے سوشل میڈیا کا استعمال کرتی تھیں۔
صحافی ، نیوز اینکر اور پیش کنندہ اس وقت سواال یہ ہے شو میں اے آر وائی نیوز کے لئے کام کر رہے ہیں۔ ماریہ نے ہمدرڈ یونیورسٹی سے سافٹ ویئر انجینئرنگ کی ڈگری حاصل کی ، لیکن میڈیا میں اپنے کیریئر کو جاری رکھنے کا فیصلہ کیا۔ اسے بہت ساری کامیابیوں اور ایوارڈز سے نوازا گیا۔ 2017 میں ، صحافی کو برطانوی ہاؤس آف کامنس سے اسپیکر ڈیموکریسی ایوارڈ ملا۔
جی ای او انگلش میں نجم سیٹھی کے ساتھ اپنے کیریئر کی شروعات کرنے والی ماریہ میمن نے اپنی کہانی شیئر کرنے کے لئے سوشل میڈیا کا استعمال کیا۔ کہتی تھی
دو دن پہلے ، میں نے ہلکی علامات محسوس کیں اور فوری طور پر COVID-19 میں مثبت ہوں اور فی الحال خود سے الگ تھلگ ہوں۔ COVID-19 سے متعلق معاشرتی بدنامی کی حوصلہ شکنی کرنا بہت ضروری ہے۔ معاشرتی طور پر ذمہ دار بنو۔ الگ تھلگ ، جانچ کرو اور لوگوں کو اپنی حالت کے بارے میں بتائیں
اس نے ایک ویڈیو بھی شائع کی جس میں بتایا گیا ہے کہ لوگ یا تو نتائج کی جانچ نہیں کرتے اور دوسروں سے نتائج چھپاتے ہیں۔ میمن کا خیال ہے کہ اگر آپ COVID-19 کے لئے مثبت جانچ پڑتال کرتے ہیں تو خبریں بانٹنا شرم کی بات نہیں ہونی چاہئے۔ لوگوں کی اکثریت اس کی حمایت میں آئی اور اس کی جلد صحت یابی کی خواہش کی اور اس کے پیغام کی مزید توثیق کی۔
اس وبائی بیماری کے خاتمے کا پہلا قدم اسے سنگین بیماری کے طور پر قبول کرنے اور صحت کے پیشہ ور افراد کے ذریعہ مقرر کردہ تمام ایس او پیز کی پیروی کرنے سے شروع ہوتا ہے۔ اگر مثبت تجربہ کیا گیا ہو؛ کسی کو اپنے رشتہ داروں اور ساتھی کارکنوں کو آگاہ کرنا چاہیئے تاکہ مستقبل میں انھیں نقصان سے بچایا جاسکے۔ ہم ماریہ میمن کی جلد صحتیابی کی خواہش کرتے ہیں اور امید کرتے ہیں کہ عوام اس کا پیغام بلند اور صاف سنیں۔