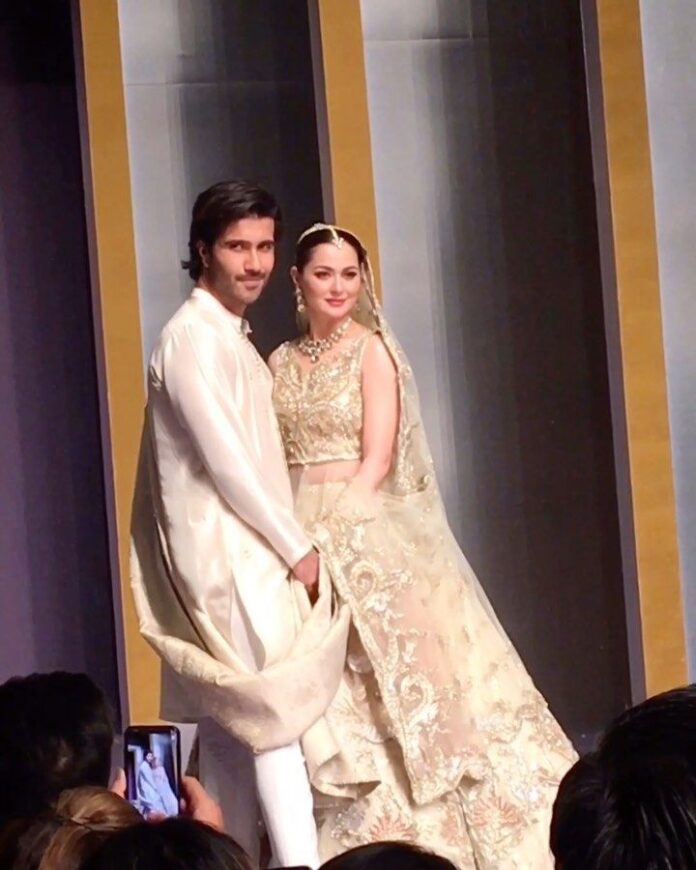 ہانیہ عامر کے ساتھ اپنے تعلقات کی خبر پر فیروز خان خاموشی ختم کر گئے
Actor Feroz Khan broke the silence on the news of his relationship with Haniya Aamir.
During the online interview, when asked by the host about his relationship with Feroz Khan and Haniya Amir and whether Haniya Amir is really behind her separation from Aliza, Feroz Khan replied when I asked her and Haniya I was very upset when I read about the rumors circulating about Aamir because we also have emotions.
"After these rumors spread, Haniya Amir called me and said what was going on, to which I told her I did not know what was going on," Feroz Khan said. Feroz Khan said that it took me only 30 seconds to take the screen shots of the conversation between me and Haniya and clarify everything but I did not.
Feroz Khan added that he was saddened to see that many senior journalists were talking nonsense about me and Haniya for a few bucks and even saying what happened on the set of the drama we all have. There is evidence. Feroz Khan said that this whole issue has strengthened me and given me more strength.
During the interview, Feroz Khan refused to discuss the issue of separation with his wife, saying that he wanted to keep his private life to himself and did not want to talk about it.
ہنیہ عامر کے ساتھ اپنے تعلقات کی خبر پر اداکار فیروز خان نے خاموشی توڑ دی۔
آن لائن انٹرویو کے دوران ، جب میزبان سے فیروز خان اور ہانیہ عامر کے ساتھ اس کے تعلقات کے بارے میں پوچھا گیا اور کیا واقعی ہانیہ عامر کو الیزہ سے علیحدگی کرنے کے پیچھے ہے تو ، فیروز خان نے جواب دیا جب میں نے اس سے پوچھا اور ہانیہ کو افواہوں کے بارے میں پڑھ کر میں بہت پریشان ہوا۔ عامر کے بارے میں گردش کررہے ہیں کیونکہ ہمارے بھی جذبات ہیں۔
فیروز خان نے کہا ، "ان افواہوں کے پھیلنے کے بعد ، ہانیہ عامر نے مجھے فون کیا اور کہا کہ کیا ہو رہا ہے ، جس پر میں نے اسے بتایا کہ مجھے نہیں معلوم کہ کیا ہو رہا ہے۔" فیروز خان نے کہا کہ مجھے اور ہانیہ کے مابین ہونے والی گفتگو کے اسکرین شاٹس لینے اور مجھے ہر چیز کی وضاحت کرنے میں صرف 30 سیکنڈ کا وقت لگا۔
فیروز خان نے مزید کہا کہ انہیں یہ دیکھ کر رنج ہوا کہ بہت سارے سینئر صحافی کچھ روپے کے لئے میرے اور ہانیہ کے بارے میں بکواس کر رہے ہیں اور یہاں تک کہ یہ کہہ رہے ہیں کہ ہم سب کے ڈرامے کے سیٹ پر کیا ہوا ہے۔ اس کا ثبوت موجود ہے۔ فیروز خان نے کہا کہ اس سارے معاملے نے مجھے مضبوط کیا ہے اور مجھے اور بھی طاقت دی ہے۔
انٹرویو کے دوران ، فیروز خان نے اپنی اہلیہ سے علیحدگی کے معاملے پر بات کرنے سے انکار کرتے ہوئے کہا کہ وہ اپنی نجی زندگی کو اپنے پاس رکھنا چاہتے ہیں اور اس کے بارے میں بات نہیں کرنا چاہتے ہیں۔