The singer Adele shocked the world after revealing her drastically transformed and stripped-down self on Instagram on her birthday. Adele went to Instagram and published an adorable picture of her. She wrote: "Thanks for the birthday love. I hope you all stay safe and healthy in this crazy time. I would like to thank all of our first aiders and important employees who protect us and risk their lives at the same time! You really are our angel. 2020 okay bye thanks x. "
Contrary to what many might believe, the singer's path to great change was long and difficult. A source near her told HollywoodLife how losing weight paid off because she put her heart and soul into it. The insider revealed: "Adele has lost weight for herself. Being in LA and its industry puts pressure on you to look a certain way. Of course that was a very big motivation for her. There was nothing at all that made her go on a diet and exercise more, she just seemed to do it. She wanted to do it slowly. "
The grapevine went on to say that parting with Simon Konecki was partly why she decided to focus on the big change. "She knows that looking good is a great revenge," said the source. She recently announced that her next album would have no negative clues about her ex-husband. An insider revealed that "she would never do anything out of respect for Simon as her son's father. She doesn't really talk about it and people don't really ask. She is very, very private and still seems to be getting used to her new body and look. It was a very slow, gradual, and healthy process, "the source continued about Adele's transformation.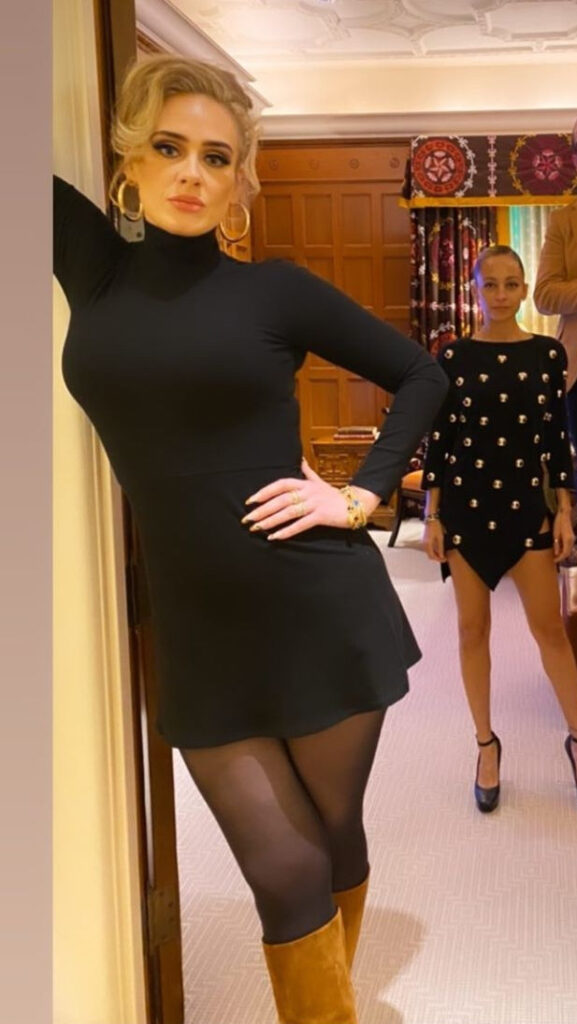 After showing off their new look, fans flooded the comment section of their post. Chrissy Teigen comments: "I mean, are you kidding me?" A fan added: "Omg Adele, do you look great? Welcome back to social media. I love you."
ایڈیلے کی نئی شکل نے دنیا کو حیران کر دیا
گلوکارہ ایڈیلے نے اپنی سالگرہ کے موقع پر انسٹاگرام پر ان کی زبردست تبدیلی اور سے پردہ اٹھایا – تبدیلی کا انکشاف کرنے کے بعد دنیا کو حیران کردیا۔ ایڈیلے نے انسٹاگرام پر جاکر اس کی ایک دلکش تصویر شائع کی۔ انہوں نے لکھا: "سالگرہ کی محبت کے لئے شکریہ۔ میں امید کرتی ہوں کہ اس عجیب وقت میں آپ سب محفوظ اور صحتمند رہیں۔ میں اپنے سبھی ابتدائی طبی امداد دہندگان اور اہم ملازمین کا شکریہ ادا کرنا چاہتی ہوں جو ہماری حفاظت کرتے ہیں اور بیک وقت اپنی جانوں کو خطرے میں ڈالتے ہیں! تم واقعی ہمارے فرشتے ہو۔ 2020 ٹھیک ہے الوداع شکریہ"۔
اس کے برعکس ، بہت سے لوگوں کے خیال میں ، گلوکارہ کی زبردست تبدیلی کی راہ طویل اور مشکل تھی۔ اس کے قریب کے ایک ماخذ نے ہالی ووڈ لائف کو بتایا کہ وزن کم کرنے کا طریقہ کیسے اس نے اپنے دل اور جان کو اس میں ڈال دیا۔ اندرونی ذرائع نے انکشاف کیا: "ایڈیلے نے اپنا وزن کم کردیا ہے۔ ایل اے میں رہنا اور اس کی صنعت ایک خاص راستہ دیکھنے کے لیے آپ پر دباؤ ڈالتی ہے۔ یقینا اس کے لئے یہ ایک بہت بڑی ترغیب تھی۔ ایسا کچھ بھی نہیں تھا جس کی وجہ سے وہ زیادہ سے زیادہ کھانے اور ورزش کرنے پر مجبور ہو ، وہ ایسا ہی کرتی نظر آرہی تھی۔ وہ آہستہ آہستہ کرنا چاہتی تھی"۔
مزید کہا گیا کہ سیمون کونیکی کے ساتھ علیحدگی اس وجہ سے تھی کہ اس نے بڑی تبدیلی پر توجہ دینے کا فیصلہ کیا۔ "وہ جانتی ہے کہ اچھا لگنا بڑا بدلہ ہے ،" ماخذ نے کہا۔ اس نے حال ہی میں اعلان کیا ہے کہ اس کے اگلے البم میں اس کے سابقہ ​​شوہر کے بارے میں کوئی منفی سراغ نہیں ہوگا۔ ایک اندرونی شخص نے انکشاف کیا کہ "وہ اپنے بیٹے کے والد کی حیثیت سے سیمون کے احترام میں کبھی کچھ نہیں کرے گی۔ وہ واقعتا اس کے بارے میں بات نہیں کرتی ہے اور لوگ واقعی نہیں پوچھتے ہیں۔ وہ بہت ، بہت نجی ہے اور ابھی بھی لگتا ہے کہ وہ اپنے نئے جسم اور شکل میں عادی ہو رہی ہے۔ یہ ایک بہت ہی سست ، تدریجی اور صحتمند عمل تھا۔ "ذرائع ایڈیلے کی تبدیلی کے بارے میں جاری رہا۔
ان کی نئی شکل دکھانے کے بعد ، شائقین نے ان کی اشاعت کے تبصرے کے سیکشن کو سیلاب میں ڈال دیا۔ کری سی ٹیگین نے تبصرہ کیا: "میرا مطلب ہے ، کیا آپ مجھ سے مذاق کر رہے ہیں؟" ایک مداح نے مزید کہا: "اوایم جی ایڈیلے ، کیا آپ بہت اچھی لگتی ہیں؟ سوشل میڈیا پر واپس خوش آمدید۔ میں تم سے پیار کرتی ہوں.