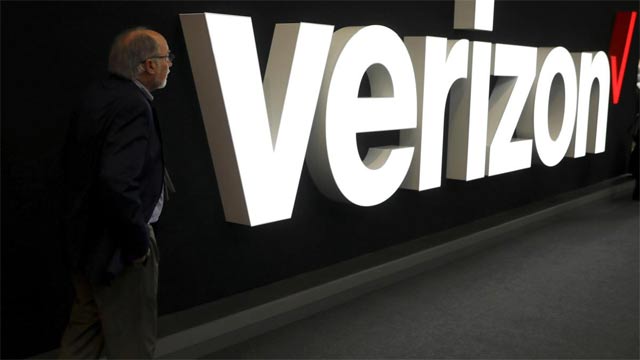 Verizon Communications Inc cancelled its full-year sales forecast on Friday after losing 68,000 phone customers who billed monthly in the first quarter due to coronavirus outbreaks that closed 70 percent of stores.
Verizon's shares fell 0.5 percent.
The closure of stores in the quarter resulted in a significant reduction in consumer operations and product volume. The telecommunications operator said the company had started selling phones in its stores and enabled customers to buy devices online. According to FactSet, analysts expected Verizon to only gain 100 subscribers in the quarter ending March 31.
Verizon recorded 0.82 percent postpaid churn in the first quarter, compared to 0.84 percent in the same period last year. Jonathan Chaplin
"an analyst at New Street Research, said in a study that lower churn would have outweighed the impact of lower gross inflows."

The company also reduced its forecast for modified earnings per share for the full year to 2% growth and 2% decline. It previously predicted a 2% to 4% increase. Verizon maintained its $ 17.5 billion to $ 18.5 billion investment forecast, which was increased by $ 500 million in March.
ویرزون اگر وائرلیس صارفین کو کھو دیتا ہے تو وہ 2020 میں فروخت شروع کردے گا
ویریزون کمیونیکیشنز انک نے 68،000 فون صارفین کو کھونے کے بعد جمعہ کے روز اپنی پورے سال کی فروخت کی پیشن گوئی منسوخ کردی جو کرونہ وائرس پھیلنے کی وجہ سے پہلی سہ ماہی میں ماہانہ بل دیتے تھے جس نے 70 فیصد دکانوں کو بند کردیا تھا۔
ویریزون کے حصص میں 0.5 فیصد کمی واقع ہوئی۔
سہ ماہی میں اسٹورز کی بندش کے نتیجے میں صارفین کی کارروائیوں اور مصنوعات کے حجم میں نمایاں کمی واقع ہوئی۔ ٹیلی مواصلات آپریٹر نے کہا کہ کمپنی نے اپنے اسٹورز میں فون فروخت کرنا شروع کردیئے ہیں اور صارفین کو آن لائن آلات خریدنے کے اہل بنائے ہیں۔ فیکٹ سیٹ کے مطابق ، تجزیہ کاروں نے توقع کی ہے کہ 31 مارچ کو ختم ہونے والی سہ ماہی میں ویریزن کو صرف 100 صارفین حاصل ہوں گے۔
ویریزون نے پہلی سہ ماہی میں پوسٹ پیڈ پر 0.79 فیصد گھماؤ ریکارڈ کیا ، جبکہ اس سے پچھلے سال اسی عرصے میں 0.84 فیصد اضافہ ہوا تھا۔ ۔
"نیو اسٹریٹ ریسرچ کے تجزیہ کار جوناتھن چیپلن نے ایک تحقیق میں کہا ہے کہ نچلے گھٹاؤ سے کم مجموعی آمد کے اثرات سے کہیں زیادہ اضافہ ہوگا"
کمپنی نے پورے سال کے لئے فی شیئر ترمیم شدہ آمدنی کی پیش گوئی کو بھی کم کرکے 2٪ نمو اور 2٪ کمی کردی ہے۔ اس سے پہلے 2٪ سے 4٪ اضافے کی پیش گوئی کی گئی تھی۔ ویریزون نے اپنی 17.5 بلین ڈالر سے 18.5 بلین ڈالر کی سرمایہ کاری کی پیش گوئی برقرار رکھی ، جسے مارچ میں 500 ملین ڈالر کا اضافہ کیا گیا تھا۔