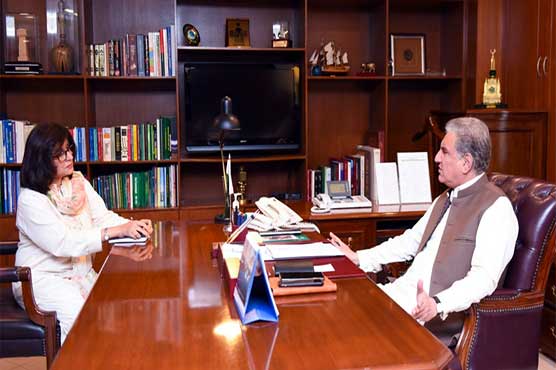 شاہ محمود نے پاکستان ، ملائشیا کے مابین معاشی تعلقات کو فروغ دینے پر زور دیا
On Friday, Foreign Minister Shah Mehmood Qureshi stressed the need to boost economic co-operation between Pakistan and Malaysia.
He was talking to Pakistan's High Commissioner to Malaysia Amna Baloch who called on him in Islamabad on Friday.
Shah Mehmood Qureshi noted that Pakistan and Malaysia enjoy historical fraternal ties linked by common faith and culture.
The Foreign Minister directed the envoy to take special care of the welfare of Pakistani workers in Malaysia.
جمعہ کو وزیر خارجہ شاہ محمود قریشی نے پاکستان اور ملائشیا کے مابین اقتصادی تعاون کو فروغ دینے کی ضرورت پر زور دیا۔
وہ ملائیشیا میں پاکستان کے ہائی کمشنر آمنہ بلوچ سے گفتگو کر رہے تھے جنہوں نے جمعہ کے روز اسلام آباد میں ان سے ملاقات کی۔
شاہ محمود قریشی نے نوٹ کیا کہ پاکستان اور ملائشیا مشترکہ عقیدے اور ثقافت سے جڑے ہوئے تاریخی برادرانہ تعلقات سے لطف اندوز ہیں۔
وزیر خارجہ نے ایلچی کو ہدایت کی کہ وہ ملائیشیا میں پاکستانی کارکنوں کی فلاح و بہبود کا خصوصی خیال رکھیں۔