ساجد سدپارہ کا اپنے والد اور لاپتہ کوہ پیماؤں کی تلاش کے لئے K2 جانے کا ارادہ
Sajid Ali Sadpara has announced that he will climb K2 to search his father and legendary mountaineer, the late Mohammad Ali Sadpara, and two other missing mountaineers. Sajid Sadpara is said to be accompanied by Canadian filmmaker Elia Saikaly. He is an award-winning adventure filmmaker and his work has received millions of views on the Discovery Channel, BBC, ESPN, HBO, NBC, and many other TV channels.
Sajid Sadpara wrote on Twitter that he is teaming up with Elia to start a ground search for the three missing mountaineers from the 2021 K2 Winter Expedition, including his father Ali Sadpara. While asking for prayers and good wishes, Sajid said he would climb the K2 for a soil search to see what happened to the three missing climbers and with the option of recovering their bodies.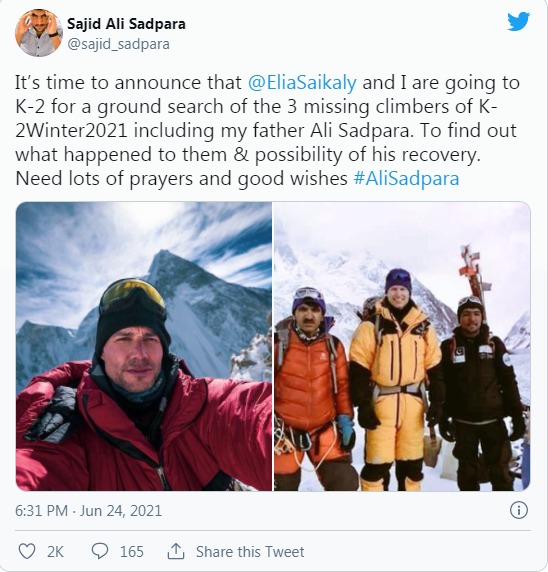 Mohammad Ali Sadpara, John Snorri from Iceland and Juan Pablo Mohr from Chile went missing during the K2 winter expedition in February this year. Sadpara, Snorri and Mohr have teamed up to set the record for the first K2 ascent in winter. On the night of February 5th, they disappeared near the summit of K2 and were never seen again. Sajid and Elia were also part of the K2 winter expedition team. Elia made a documentary about the first winter ascent of K2. Both also took part in the search and rescue operation.
ساجد علی سدپارہ نے اعلان کیا ہے کہ وہ اپنے والد اور لیجنڈ کوہ پیما مرحوم ، محمد علی سدپارہ ، اور دو دیگر لاپتہ کوہ پیماؤں کی تلاش کے لئے کے ٹو پر جائیں گے۔ کہا جاتا ہے کہ ساجد سدپارہ کے ساتھ کینیڈا کی فلم ساز ایلیا سائکلی بھی موجود ہیں۔ وہ ایک ایوارڈ یافتہ ایڈونچر فلم ساز ہے اور ان کے کام کو ڈسکوری چینل ، بی بی سی ، ای ایس پی این ، ایچ بی او ، این بی سی ، اور بہت سارے دوسرے ٹی وی چینلز پر لاکھوں ویوز ملے ہیں۔
ساجد سدپارہ نے ٹویٹر پر لکھا کہ وہ ایلیا کے ساتھ مل کر اپنے والد علی سدپارہ سمیت 2021 میں کے ٹو سرمائی مہم سے لاپتہ ہونے والے تین کوہ پیماؤں کی تلاش کے لئے زمینی تلاش شروع کر رہے ہیں۔ دعاؤں اور نیک تمنائوں کے بارے میں کہتے ہوئے ، ساجد نے کہا کہ وہ ان کی تلاش کے لئے کے 2 پر جائیں گے تاکہ یہ معلوم کریں کہ گمشدہ تینوں کوہ پیماؤں کے ساتھ کیا ہوا اور ان کی لاشوں کو کیسے ڈھونڈا جائے۔
اس سال فروری میں کے ٹو سردیوں کی مہم کے دوران محمد علی سدپارہ ، آئس لینڈ سے جان سنوری اور چلی سے جان پبلو مہر لاپتہ ہوگئے تھے۔ سدپارہ ، سنوری اور موہر نے سردیوں میں پہلے کے ٹو کے اوپر چڑھائی کا ریکارڈ قائم کرنے کے لئے ٹیم تشکیل دی۔ 5 فروری کی رات ، وہ کے ٹو کی چوٹی کے قریب غائب ہوگئے اور پھر کبھی نہیں دیکھے گئے۔ ساجد اور ایلیا کے ٹو موسم سرما کی مہم ٹیم کا بھی حصہ تھے۔ ایلیا نے کے 2 کے موسم سرما کی پہلی چڑھائی کے بارے میں ایک دستاویزی فلم بنائی۔ دونوں نے سرچ اینڈ ریسکیو آپریشن میں بھی حصہ لیا۔