سجل علی، احد رضا میر کی بالی ووڈ کے نوازالدین صدیقی کے ساتھ تصویر
Pakistani showbiz couple Sajjal Ali and Ehsas Raza Mir were awarded the Filmfare Middle East Achievers Night with Awards on October 28 in Dubai.
The event was also attended by many showbiz personalities including Mahira Khan, Ahad Raza Mir, Ayesha Umar, Sajjal Ali and famous Bollywood stars Noora Fatehi, Sunny Leone and Nawazuddin Siddiqui.
Mom Starlett went on her Instagram and shared a smile with her husband at the awards and mentioned him as her "hero".
Commenting on this post, Sajal's brother-in-law Ali Ansari said with a heart emoji, "Congratulations".
The actress also shared a sweet photo with Bollywood actors Nawazuddin Siddiqui and Uhud in her Insta Stories.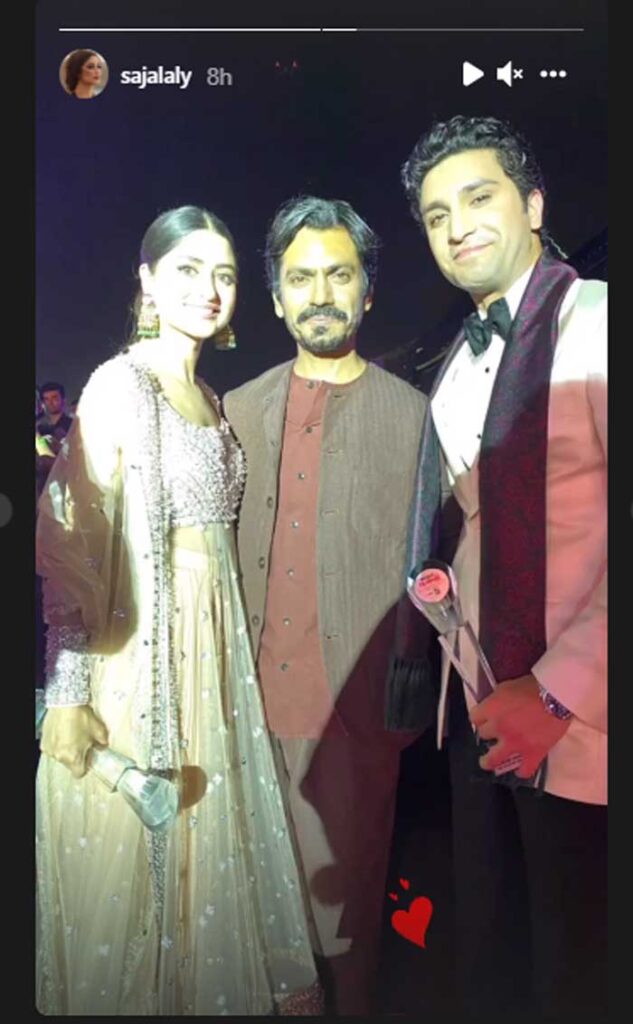 In 2020, the power couple walked down the aisle at an event in Abu Dhabi, attended by close relatives and friends.
پاکستان کے شوبز جوڑے سجل علی اور احد رضا میر کو فلم فیئر مڈل ایسٹ اچیورز نائٹ ود ایوارڈز سے نوازا گیا، یہ ایوارڈ 28 اکتوبر کو دبئی میں منعقد ہوا۔
تقریب میں ماہرہ خان، احد رضا میر، عائشہ عمر، سجل علی اور مشہور بالی ووڈ اسٹارز نورا فتیحی، سنی لیون اور نوازالدین صدیقی سمیت شوبز کی کئی مشہور شخصیات نے بھی شرکت کی۔
ماں اسٹارلیٹ اپنے انسٹاگرام پر گئی اور اپنے شوہر کے ساتھ ایوارڈز کے ساتھ ایک مسکراہٹ کا اشتراک کیا اور اسے اپنے "ہیرو" کے طور پر ذکر کیا۔
اس پوسٹ پر تبصرہ کرتے ہوئے، سجل کے بہنوئی علی انصاری نے دل کے ایموجی کے ساتھ کہا، "مبارک رہو"۔
اداکارہ نے اپنی انسٹا اسٹوریز میں بالی ووڈ اداکار نوازالدین صدیقی اور احد کے ساتھ ایک میٹھی تصویر بھی شیئر کی۔
جوڑے نے ابوظہبی میں ایک تقریب میں گلیارے پر واک کیا، جس میں قریبی رشتہ داروں اور دوستوں نے شرکت کی۔