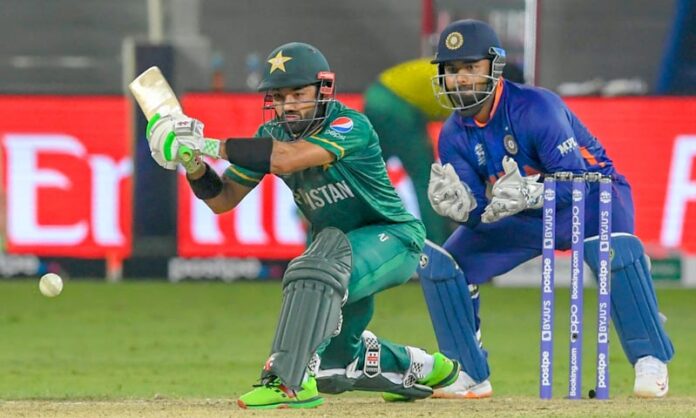 رضوان نے آئی سی سی ٹی 20 رینکنگ 2021 میں ویرات کوہلی کو پیچھے چھوڑ دیا
The International Cricket Council (ICC) has released the world rankings for T20 cricket, with Pakistan batsman Mohammad Rizwan taking a career-best fourth position thanks to his superb performance, while Indian captain Virat Kohli moved up to fifth.
According to a statement issued by the ICC, England's David Milan is still leading with 831 points, while Pakistan captain Babar Azam is second with 820 points.
Babar Azam is 11 points behind the English batsman, followed by South Africa's Aiden Mercury with 743 points.
Mohammad Rizwan, who had the best performance in the T20 World Cup, scored 727 points and secured the fourth position, after which there is a difference of only 2 points between the famous Indian batsman Virat Kohli and the two.
Australia's Aaron Finch is sixth, New Zealand's Devon Conway is seventh, India's Lokesh Rahul is eighth, West Indies' Avon Lewis is ninth and Afghanistan's Hazratullah Zazai is tenth.
In the T20 bowling rankings, Shaheen Shah Afridi and Haris Rauf, who had the best performance for Pakistan in the crucial World Cup match against India, secured the best position with 596 and 563 points respectively but both the bowlers were in the top 10. Failed to create.
Shaheen Shah is 12th and Haris Rauf is 17th
In the bowling rankings, South Africa's Tabri Shamsi is leading with 750 points, Sri Lanka's De Silva is second, Afghanistan's Rashid Khan is third, England's Adil Rashid is fourth and Afghanistan's Mujeeb-ur-Rehman is fifth.
The best T20 all-rounders have been replaced by Bangladesh's Shakib Al Hasan, who has moved up 20 points to 295 points and is in the first position.
In the list of all-rounders, Mohammad Nabi of Afghanistan is second, JJ Smith of Namibia is third, Glenn Maxwell of Australia is fourth and Zeeshan Maqsood of Oman is fifth.
There is no Pakistani player in the top 10 all-rounders but Mohammad Hafeez is at 14th position with 128 points.
انٹرنیشنل کرکٹ کونسل (آئی سی سی) نے ٹی ٹوئنٹی کرکٹ کی عالمی رینکنگ جاری کر دی ہے جس میں پاکستانی بلے باز محمد رضوان شاندار کارکردگی کی بدولت کیریئر کی بہترین چوتھی پوزیشن پر براجمان ہیں جب کہ بھارتی کپتان ویرات کوہلی پانچویں نمبر پر آ گئے۔
آئی سی سی کی جانب سے جاری کردہ بیان کے مطابق انگلینڈ کے ڈیوڈ میلان بدستور 831 پوائنٹس کے ساتھ سرفہرست ہیں جب کہ پاکستان کے کپتان بابر اعظم 820 پوائنٹس کے ساتھ دوسرے نمبر پر ہیں۔
بابر اعظم انگلش بلے باز سے 11 پوائنٹس پیچھے ہیں، ان کے بعد جنوبی افریقہ کے ایڈن مرکری 743 پوائنٹس کے ساتھ دوسرے نمبر پر ہیں۔
ٹی ٹوئنٹی ورلڈ کپ میں بہترین کارکردگی کا مظاہرہ کرنے والے محمد رضوان نے 727 پوائنٹس حاصل کرکے چوتھی پوزیشن حاصل کی جس کے بعد معروف بھارتی بلے باز ویرات کوہلی اور دونوں کے درمیان صرف 2 پوائنٹس کا فرق ہے۔
آسٹریلیا کے ایرون فنچ چھٹے، نیوزی لینڈ کے ڈیون کونوے ساتویں، بھارت کے لوکیش راہول آٹھویں، ویسٹ انڈیز کے ایون لیوس نویں اور افغانستان کے حضرت اللہ زازئی دسویں نمبر پر ہیں۔
ٹی ٹوئنٹی بولنگ رینکنگ میں بھارت کے خلاف ورلڈ کپ کے اہم میچ میں پاکستان کی جانب سے بہترین کارکردگی کا مظاہرہ کرنے والے شاہین شاہ آفریدی اور حارث رؤف نے بالترتیب 596 اور 563 پوائنٹس کے ساتھ بہترین پوزیشن حاصل کی تاہم دونوں بولرز ٹاپ 10 میں شامل رہے۔ بنانا.
شاہین شاہ 12ویں اور حارث رؤف 17ویں نمبر پر ہیں۔
بولنگ رینکنگ میں جنوبی افریقہ کے تبری شمسی 750 پوائنٹس کے ساتھ سرفہرست ہیں، سری لنکا کے ڈی سلوا دوسرے، افغانستان کے راشد خان تیسرے، انگلینڈ کے عادل راشد چوتھے اور افغانستان کے مجیب الرحمان پانچویں نمبر پر ہیں۔
ٹی ٹوئنٹی کے بہترین آل راؤنڈرز کی جگہ بنگلہ دیش کے شکیب الحسن کو شامل کیا گیا ہے جو 20 پوائنٹس بڑھ کر 295 پوائنٹس پر پہنچ گئے ہیں اور وہ پہلی پوزیشن پر ہیں۔
آل راؤنڈرز کی فہرست میں افغانستان کے محمد نبی دوسرے، نمیبیا کے جے جے اسمتھ تیسرے، آسٹریلیا کے گلین میکسویل چوتھے اور عمان کے ذیشان مقصود پانچویں نمبر پر ہیں۔
ٹاپ 10 آل راؤنڈرز میں کوئی پاکستانی کھلاڑی نہیں تاہم محمد حفیظ 128 پوائنٹس کے ساتھ 14ویں نمبر پر ہیں۔