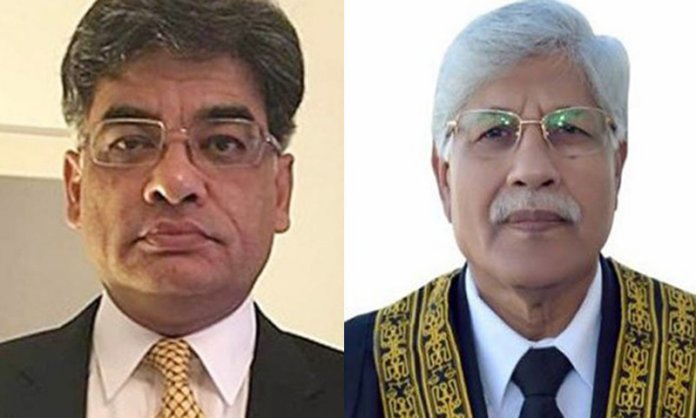 رانا شمیم اصل حلف نامہ پاکستان ہائی کمیشن لندن کے حوالے کریں گے: اٹارنی جنرل کا خط
On the orders of the Islamabad High Court, the Attorney General wrote a letter to former Gilgit-Baltistan Chief Justice Rana Shamim to hand over the original affidavit.
The letter said that the former Chief Justice of Gilgit-Baltistan should submit his original affidavit to the Pakistan High Commission in London.
He wrote in the letter that following the court order of November 3, the Pakistan High Commission would send the affidavit in a sealed envelope to Pakistan.
On the other hand, in the case related to Rana Shamim's affidavit in the Islamabad High Court, a citizen named Rai Muhammad Kharal filed a petition to be included in the Exit Control List (ECL).
The petition states that Rana Shamim has been an official of PML-N in Sindh. The PML-N had appointed Rana Shamim as the Chief Judge of Gilgit-Baltistan as soon as he came to power.
The petitioner pleaded that it is feared that Rana Shamim may not flee abroad again, therefore the court may order the parties to include Rana Shamim's name in the ECL.
اسلام آباد ہائی کورٹ کے حکم پر اٹارنی جنرل نے گلگت بلتستان کے سابق چیف جسٹس رانا شمیم ​​کو اصل حلف نامہ حوالے کرنے کے لیے خط لکھ دیا۔
خط میں کہا گیا ہے کہ سابق چیف جسٹس گلگت بلتستان اپنا اصل حلف نامہ لندن میں پاکستانی ہائی کمیشن میں جمع کرائیں۔
انہوں نے خط میں لکھا کہ 3 نومبر کے عدالتی حکم کے بعد پاکستانی ہائی کمیشن یہ بیان حلفی سربمہر لفافے میں پاکستان بھیجے گا۔
دوسری جانب اسلام آباد ہائی کورٹ میں رانا شمیم ​​کے بیان حلفی سے متعلق کیس میں رائے محمد کھرل نامی شہری نے نام ایگزٹ کنٹرول لسٹ (ای سی ایل) میں ڈالنے کی درخواست دائر کردی۔
درخواست میں کہا گیا ہے کہ رانا شمیم ​​سندھ میں مسلم لیگ ن کے عہدیدار رہ چکے ہیں۔ مسلم لیگ (ن) نے اقتدار میں آتے ہی رانا شمیم ​​کو گلگت بلتستان کا چیف جج مقرر کیا تھا۔
درخواست گزار نے استدعا کی کہ خدشہ ہے کہ رانا شمیم ​​دوبارہ بیرون ملک فرار نہ ہو جائیں لہٰذا عدالت فریقین کو رانا شمیم ​​کا نام ای سی ایل میں شامل کرنے کا حکم دے۔