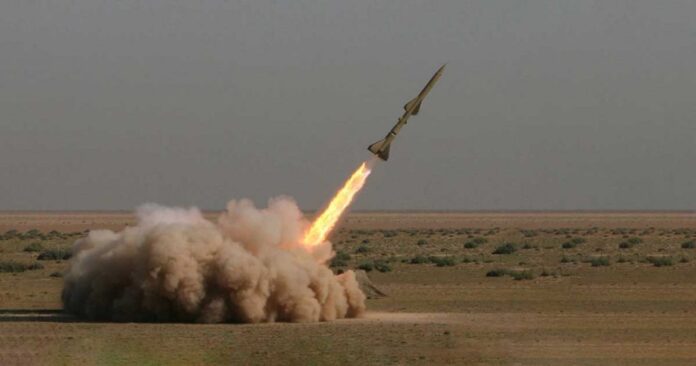 پاک فوج نے فتاح اول راکٹ سسٹم کو کامیابی کے ساتھ آزمایا
Inter-Service Public Relations (ISPR) issued a notification confirming that the military had successfully tested a multi-launch home-guided missile system.
According to the Armed Forces' media wing, the state-of-the-art missile system can fire warhead rail within 140 km.
The ISPR notification also said that Prime Minister Imran Khan, President Dr. Arif Alvi, Chairman of the Joint Committee of Chiefs of Staff, General Nadeem Raza and Chief of Staff of the Qamar Army Javed Bajwa were present at the station upon the successful completion of the Release.
The high-end payload machine, called the Fatah I, is a military-grade combat machine specially designed to drive insurgent entities along enemy lines
According to ISPR reports, comprehensive reviews of regional and internal security prioritize the integration of multi-launch guided missile systems. Additional details will be disclosed at the sole discretion of the Armed Forces.
انٹر سروس پبلک ریلیشنز (آئی ایس پی آر) نے ایک نوٹیفکیشن جاری کیا جس میں اس بات کی تصدیق کی گئی ہے کہ فوج نے گھریلو-لانچڈ ہوم گائیڈ میزائل سسٹم کا کامیابی کے ساتھ تجربہ کیا ہے۔
آرمڈ فورسز کے میڈیا ونگ کے مطابق ، جدید ترین میزائل نظام 140 کلومیٹر کے فاصلے پر وار ہیڈ ریل کو فائر کرسکتا ہے۔
آئی ایس پی آر کے نوٹیفکیشن میں یہ بھی کہا گیا ہے کہ وزیر اعظم عمران خان ، صدر ڈاکٹر عارف علوی ، جوائنٹ کمیٹی آف چیفس آف اسٹاف کے چیئرمین ، جنرل ندیم رضا اور آرمی کے چیف آف اسٹاف قمر جاوید باجوہ رہائی کی کامیاب تکمیل پر اسٹیشن پر موجود تھے۔
فتاح اول کے نام سے اعلٰی ترین پے لوڈ مشین ، ایک فوجی درجہ کی لڑاکا مشین ہے جو خاص طور پر باغی اداروں کو دشمنوں کی خطوط پر چلانے کے لئے بنائی گئی ہے
آئی ایس پی آر کی رپورٹس کے مطابق ، علاقائی اور داخلی سلامتی کے جامع جائزے ملٹی لانچ گائیڈڈ میزائل سسٹم کے انضمام کو ترجیح دیتے ہیں۔ مسلح افواج کی واحد صوابدید پر اضافی تفصیلات کا انکشاف کیا جائے گا۔