ننگیہ خان چنگچی کے سواری پر اپنے شوہر کے ساتھ: فوٹو
A photo of Pakistan Showbiz Industry's most popular actress and host Nadia Khan with her husband in a rickshaw has gone viral on social media.
Nadia Khan, who has been active on social media since her marriage, shared a new photo of herself with her husband in her Instagram story.
In the photo, the TV host and her husband are sitting in a Chingchi and the actress' husband is driving a rickshaw.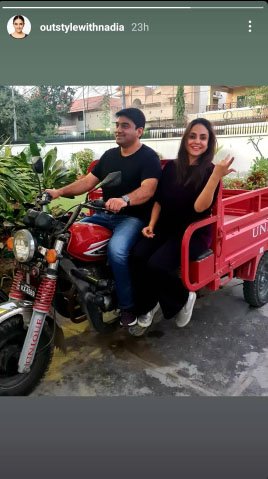 In the photo, Nadia Khan looks at the camera as she poses and expresses happiness while her husband is busy holding Chingchi's handle.
پاکستان شوبز انڈسٹری کی مقبول ترین اداکارہ اور میزبان نادیہ خان کی ایک رکشا میں اپنے شوہر کے ساتھ ایک تصویر سوشل میڈیا پر وائرل ہوگئی ہے۔
نادیہ خان ، جو شادی کے بعد سے ہی سوشل میڈیا پر زیادہ سرگرم ہیں ، نے اپنے انسٹاگرام کہانی میں اپنے شوہر کے ساتھ اپنی ایک نئی تصویر شیئر کی ہے۔
تصویر میں ، ٹی وی میزبان اور اس کے شوہر ایک چنگچی میں بیٹھے ہیں اور اداکارہ کے شوہر رکشہ چلا رہے ہیں۔
تصویر میں نادیہ خان کیمرے کی طرف دیکھ رہی ہیں جب وہ پوز آرہی ہیں اور خوشی کا اظہار کررہی ہیں جب کہ ان کے شوہر چنگچی کے ہینڈل پر ہاتھ تھامنے میں مصروف ہیں۔