ہنڈا این-ون چھوٹی کیی کار
Making a tiny, ordinary commuter vehicle visually desirable is a fantastic achievement, and Honda has done a masterly job with the design of the N-One. The retro design with a touch of modernity, supported by cutting-edge aesthetics, makes the vehicle the best in its class.
The N-One is equipped with a tiny 658 cc 3-cylinder petrol engine that produces 58 hp and 65 Nm of torque and is coupled with a 6-speed manual transmission or a CVT automatic transmission. Its power is enough to move the driver with ease and comfort. A 660 cm³ turbo engine with 65 hp and 104 Nm torque is optionally available.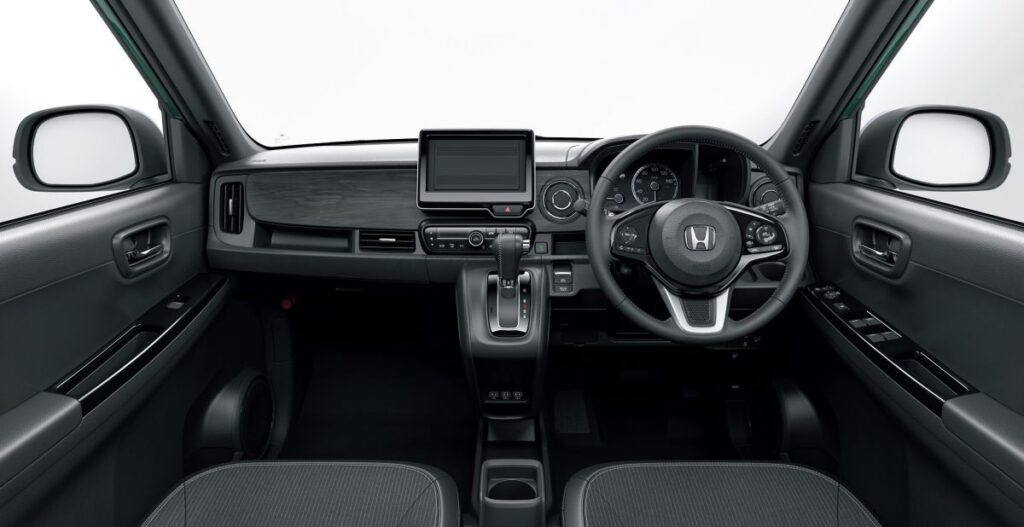 The N-One is a modern infotainment system with modern functions such as auto high beam, autonomous emergency braking, adaptive cruise control with stop-and-go, lane departure warning, lane alignment assistant, traffic sign recognition, an AWD drive train and other basic functions such as driver and passenger airbags , Automatic air conditioning, keyless entry and push start.
The price of the N-One in Japan equals Rs. 2.3 million for the lowest variant and Rs. 2.9 million Regardless of the looks and fittings, this price is admittedly too high for a kei car. Nonetheless, the N-One will be a great addition to the Pakistani auto market when Honda Atlas Cars Limited begins assembly in Pakistan.
ایک چھوٹی سی ، معمولی مسافر گاڑی کو ضعف کے قابل بنانا ایک حیرت انگیز کارنامہ ہے ، اور ہنڈا نے این ون کے ڈیزائن کے ساتھ عمدہ کام انجام دیا ہے۔ جدیدیت کے ایک ٹچ کے ساتھ ریٹرو ڈیزائن ، جدید جمالیات کی مدد سے ، گاڑی کو اپنی کلاس میں بہترین بناتا ہے۔
این ون ایک چھوٹے سے 658 سی سی 3 سلنڈر پیٹرول انجن سے لیس ہے جو 58 ایچ پی اور 65 این ایم ٹارک تیار کرتا ہے اور اس میں مل کر 6 اسپیڈ دستی ٹرانسمیشن یا سی وی ٹی خودکار ٹرانسمیشن ہوتا ہے۔ اس کی طاقت ڈرائیور کو آسانی اور راحت کے ساتھ منتقل کرنے کے لئے کافی ہے۔ ایک 660 سینٹی میٹر³ ٹربو انجن جس میں ایچ پی 65 اور این ایم 104 ٹارک اختیاری طور پر دستیاب ہے۔
این ون ایک جدید انفوٹینمنٹ سسٹم ہے جس میں جدید افعال جیسے آٹو ہائی بیم ، خودمختار ایمرجنسی بریکنگ ، اسٹاپ اینڈ گو کے ساتھ انکولی کروز کنٹرول ، لین روانگی انتباہ ، سیدھی لائن کا معاون ، ٹریفک سائن کی شناخت ، ایک اے ڈبلیو ڈی ڈرائیو ٹرین اور دیگر جیسے جدید کام ہیں۔ بنیادی افعال جیسے ڈرائیور اور مسافر ائیر بیگ ، خودکار ائر کنڈیشنگ ، کیلیس انٹری اور پش اسٹارٹ۔
جاپان میں این ون کی قیمت 2.3 ملین سب سے کم قیمت میں اور متعلقہ اشیاء سے قطع نظر ، 2.9 ملین ، یہ قیمت کسی کی کار کے لئے بھی بہت زیادہ ہے۔ بہرحال ، جب ہونڈا اٹلس کارپوریشن لمیٹڈ نے پاکستان میں اسمبلی کا آغاز کیا تو این ون پاکستانی آٹو مارکیٹ میں ایک بہت بڑا اضافہ ہوگا۔