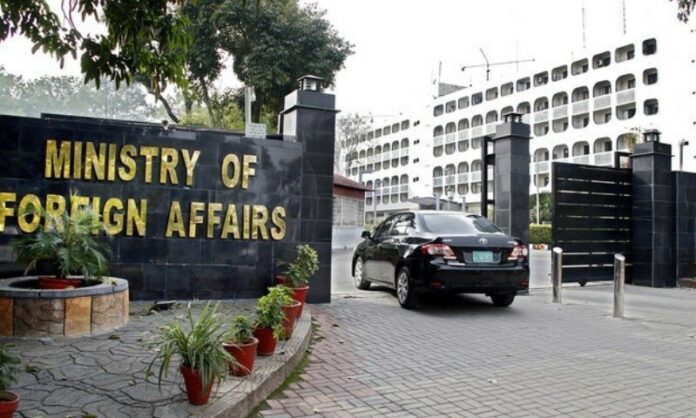 دفتر خارجہ نے بھارتی حکام کی جانب سے کشمیری طلبہ کے خلاف انسداد دہشت گردی کے مقدمات درج کرنے کی مذمت کی
Islamabad has strongly condemned the worst violence against Kashmiris celebrating Pakistan's victory over India in the T20 World Cup.
A statement issued by the Foreign Office said that the violence against Kashmiri students made it clear that the Bharatiya Janata Party (BJP) and the extremist Hindu organization (RSS) had merged to form an extremist 'Hindutva' thinking minority. Hatred against Muslims in particular is on the rise.
The Foreign Office spokesperson said that it was a matter of great condemnation and deep concern that Indian authorities were registering anti-terrorism cases against Kashmiri students and youth.
"It is clear that hate speech and Islamophobia are spreading rapidly in India and even the gentleman's game of cricket has not escaped its harmful effects," he said.
According to the Foreign Office, the Indian government should take steps to fully investigate the intimidation and violence against Kashmiri youth and the Muslim minority in the wake of the T20 cricket match.
It may be recalled that Kashmiri students studying in Indian Punjab's educational institutions were tortured and their hostel rooms were vandalized after Pakistan's humiliating defeat in the T20 World Cup match.
Later, anti-terrorism cases were filed against two students of medical colleges in occupied Kashmir who were celebrating Pakistan's victory over India.
The students are studying at Government Medical College, Srinagar and Sher-e-Kashmir Institute of Medical Sciences.
Ravinder Reena, president of the ruling Bharatiya Janata Party (BJP) in Indian-administered Kashmir, had said that all those who expressed happiness for "enemy country" Pakistan would soon be in jail.
It may be recalled that Pakistan had defeated traditional rival India by 10 wickets in the Super 12 round match of T20 World Cup on October 24.
اسلام آباد نے ٹی20 ورلڈ کپ میں بھارت کے خلاف پاکستان کی جیت کا جشن منانے والے کشمیریوں کے خلاف بدترین تشدد کی شدید مذمت کی ہے۔
دفتر خارجہ کی طرف سے جاری ہونے والے ایک بیان میں کہا گیا ہے کہ کشمیری طلباء کے خلاف تشدد نے واضح کر دیا ہے کہ بھارتیہ جنتا پارٹی (بی جے پی) اور انتہا پسند ہندو تنظیم (آر ایس ایس) ایک انتہا پسند 'ہندوتوا' سوچ رکھنے والی اقلیت کی تشکیل کے لیے ضم ہو گئے ہیں۔ خصوصاً مسلمانوں کے خلاف نفرت بڑھ رہی ہے۔
دفتر خارجہ کے ترجمان نے کہا کہ یہ انتہائی قابل مذمت اور گہری تشویش کی بات ہے کہ بھارتی حکام کشمیری طلباء اور نوجوانوں کے خلاف انسداد دہشت گردی کے مقدمات درج کر رہے ہیں۔
انہوں نے کہا کہ "یہ واضح ہے کہ نفرت انگیز تقریر اور اسلامو فوبیا ہندوستان میں تیزی سے پھیل رہا ہے اور یہاں تک کہ جنٹلمینز گیم آف کرکٹ بھی اس کے نقصان دہ اثرات سے نہیں بچ سکی ہے۔"
دفتر خارجہ کے مطابق بھارتی حکومت ٹی ٹوئنٹی کرکٹ میچ کے تناظر میں کشمیری نوجوانوں اور مسلم اقلیت کے خلاف دھمکیوں اور تشدد کی مکمل تحقیقات کے لیے اقدامات کرے۔
خیال رہے کہ ٹی ٹوئنٹی ورلڈ کپ کے میچ میں پاکستان کی شرمناک شکست کے بعد بھارتی پنجاب کے تعلیمی اداروں میں زیر تعلیم کشمیری طلبہ کو تشدد کا نشانہ بنایا گیا اور ان کے ہاسٹل کے کمروں میں توڑ پھوڑ کی گئی۔
بعد ازاں مقبوضہ کشمیر کے میڈیکل کالجز کے دو طالب علموں کے خلاف انسداد دہشت گردی کے مقدمات درج کیے گئے جو بھارت کے خلاف پاکستان کی جیت کا جشن منا رہے تھے۔
طالب علم گورنمنٹ میڈیکل کالج سری نگر اور شیر کشمیر انسٹی ٹیوٹ آف میڈیکل سائنسز میں زیر تعلیم ہیں۔
ہندوستان کے زیر انتظام کشمیر میں حکمران جماعت بھارتیہ جنتا پارٹی (بی جے پی) کے صدر رویندر رینا نے کہا تھا کہ وہ تمام لوگ جنہوں نے "دشمن ملک" پاکستان کے لیے خوشی کا اظہار کیا وہ جلد ہی جیل میں ہوں گے۔
یاد رہے کہ 24 اکتوبر کو ٹی ٹوئنٹی ورلڈ کپ کے سپر 12 راؤنڈ کے میچ میں پاکستان نے روایتی حریف بھارت کو 10 وکٹوں سے شکست دی تھی۔