چنگن بین بین ای اسٹار چھوٹی کیی کار
If you switch to the EV side, you will find that China has tons of fascinating products and the Changan BenBen E-Star, launched in 2020, is one of the newer products on the market.
If you think the BenBen E-Star sounds familiar, it's because it's a facelift of what is known in Pakistan as the Prince Pearl. The heavily redesigned front apron offers a unique and fresh look, but the rest of the body design largely matches that of the Pearl.
The Kei-EV has a single electric motor mounted above the front wheels that delivers 55 hp and an impressive 170 Nm of torque. The vehicle has a 32.2 kWh battery that allows it to travel up to 300 km on a single charge.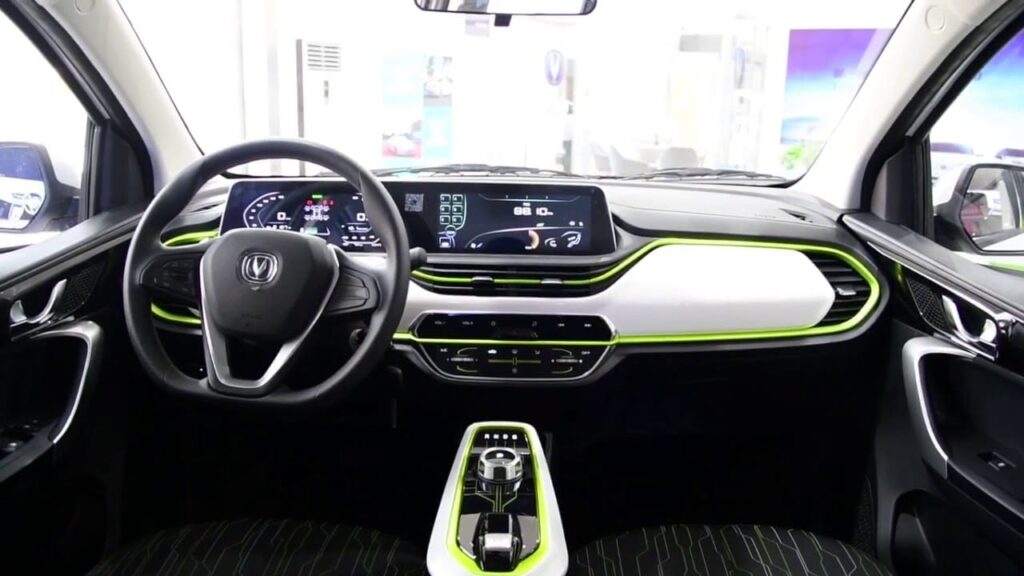 Like its competitors, the BenBen E-Star also has modern features and options such as a huge digital screen, similar to that of modern Mercedes-Benz vehicles, as it has functions for infotainment as well as the fully digital instrument cluster, parking sensors, a reversing camera, hill start assist , Driver and front passenger airbags, a multifunction steering wheel and various autonomous driver assistance systems in addition to other basic functions such as air conditioning, double airbags, ABS brakes, etc.
In China, the price of the BenBen E-Star starts from the equivalent of Rs. 1.7 million and goes up to Rs. 1.9 million, which is one of the most given that it is a modern electric vehicle makes cheaper options on this list.
اگر آپ ای وی کی طرف جاتے ہیں تو ، آپ کو معلوم ہوگا کہ چین کے پاس بہت ساری دلچسپ مصنوعات ہیں اور 2020 میں شروع کیا گیا چانگن بین بین ای اسٹار ، مارکیٹ میں نئی ​​مصنوعات میں سے ایک ہے۔
اگر آپ کو لگتا ہے کہ بین بین ای اسٹار شناسا لگتا ہے تو ، اس کی وجہ یہ ہے کہ یہ اس چیز کا پہلو ہے جو پاکستان میں پرنس پرل کے نام سے جانا جاتا ہے۔ بھاری رنگ سے ڈیزائن کیا گیا سامنے والا تہبند ایک انوکھا اور تازہ شکل پیش کرتا ہے ، لیکن باڈی کے باقی ڈیزائن بڑے پیمانے پر پرل سے ملتے ہیں۔
کی-ای وی میں ایک واحد برقی موٹر ہے جو ٹائروں کے اوپر لگا ہوا ہے جو 55 ایچ پی اور ایک متاثر کن این ایم 170 ٹارک فراہم کرتا ہے۔ اس گاڑی میں 32.2 کلو واٹ بیٹری ہے جو ایک ہی معاوضے پر 300 کلومیٹر تک سفر کرسکتی ہے۔
اپنے حریفوں کی طرح ، بین بین ای اسٹار میں بھی جدید مرسڈیز بینز گاڑیوں کی طرح ایک بہت بڑی ڈیجیٹل اسکرین جیسے جدید خصوصیات اور اختیارات ہیں ، کیونکہ اس میں انفنٹننٹ کے کام کے ساتھ ساتھ مکمل طور پر ڈیجیٹل آلہ جات کلسٹر ، پارکنگ سینسر ، ریورسنگ کیمرا ، ہل ہل اسٹارٹ اسسٹ ، ڈرائیور اور فرنٹ مسافر ائیر بیگ ، ایک ملٹی فینکشن اسٹیئرنگ وہیل اور مختلف خود مختار ڈرائیور امدادی نظام جیسے دیگر بنیادی افعال جیسے ائر کنڈیشنگ ، ڈبل ایر بیگ ، اے بی ایس بریک ، وغیرہ۔
چین میں ، بین بین ای اسٹار کی قیمت 1.7 ملین روپے کے برابر سے شروع ہوتی ہے اور 1.9 ملین ، جو کہ ایک جدید ترین الیکٹرک گاڑی اس فہرست میں سستی اختیارات فراہم کرتی ہے ، میں سے ایک ہے۔