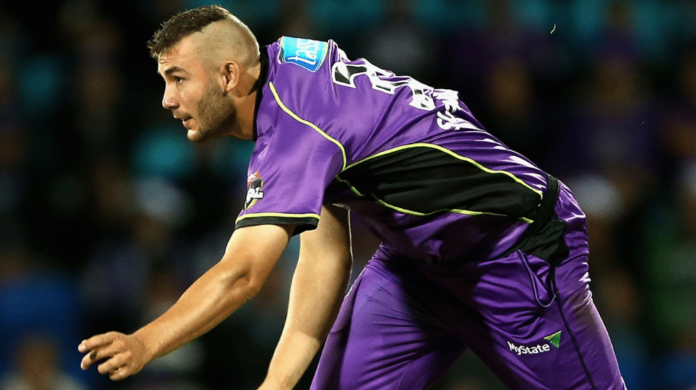 ایرون سمرز پاکستان کی ڈومیسٹک کرکٹ میں کھیلنے کے لئے پہلے آسٹریلیائی کھلاڑی بن گئے
Aaron Summer, is going to be a first Australian to play in Pakistan domestic cricket. He will take part in the National One Day Cup which is scheduled on 8th January 2021. He will play from Southern Punjab side. Summers and PCB are in final phase to confirm his appearance in the domestic cricket and finally it will be announced officially soon. Summers, reportedly is going to be a part of upcoming local event in Pakistan after receiving No Objection Order NOC from Cricket Australia.
As per rule of the Pakistan Cricket Board PCB, maximum one overseas player can take part in each domestic team. Summer is going to make a history, to be a first Australian taking part in Pakistani domestic team. Remember that Summers has already played in the Pakistan Super League as a member of Karachi King's squad.
ایرون سمر ، پاکستان ڈومیسٹک کرکٹ میں کھیلنے والا پہلا آسٹریلوی بننے جا رہا ہے۔ وہ آٹھ جنوری دو ہزار اکیس کو ہونے والے نیشنل ون ڈے کپ میں حصہ لیں گے۔ وہ جنوبی پنجاب کی جانب سے کھیلے گی۔
ڈومیسٹک کرکٹ میں ان کی موجودگی کی تصدیق کے لئے گرمیاں اور پی سی بی آخری مرحلے میں ہیں اور آخر کار اس کا جلد باضابطہ اعلان کیا جائے گا۔ مبینہ طور پر موسم گرما ، کرکٹ آسٹریلیا سے کوئی اعتراض اعتراض آر او سی حاصل کرنے کے بعد پاکستان میں آئندہ ہونے والے مقامی ایونٹ کا حصہ بننے جارہا ہے-
پاکستان کرکٹ بورڈ پی سی بی کے اصول کے مطابق ، ہر گھریلو ٹیم میں زیادہ سے زیادہ ایک بیرون ملک کھلاڑی حصہ لے سکتا ہے۔ سمر ایک تاریخ رقم کرنے جارہا ہے ، پاکستانی ڈومیسٹک ٹیم میں حصہ لینے والا پہلا آسٹریلیائی ہونا۔ یاد رہے کہ گرمیاں پہلے ہی کراچی کنگ اسکواڈ کے ممبر کی حیثیت سے پاکستان سپر لیگ میں کھیل چکی ہیں۔