Faiz Ullah Kamoka chaired the National Assembly Finance Committee meeting on Tuesday. The governor of the SBP, Reza Baqir, informed the members of the Standing Finance Committee via video link about loans, programs and facilities.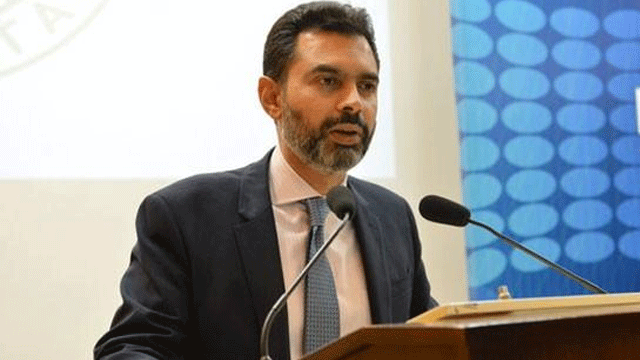 SBP Governor Reza Baqir said the State Bank of Pakistan (SBP) has extended the term of 1 trillion rupee loans in the past two weeks, adding that interest payments have also been delayed.
According to Baqir, interest rates were cut by 4.25%, which is the largest decline in the world. On Thursday, the Pakistani central bank cut its key interest rate by 2%. The new rate rose from 11% to 9%.
During a briefing on the Prime Minister's aid package, Finance Minister said an emergency fund of 100 billion rupees had been set up. The program has earmarked 25 billion rupees for the National Disaster Management Authority (NDMA).
The government is working with the provinces to address the food shortage, the finance secretary said. The IMF's $ 1.4 billion will also be spent on aid, he said. Ayesha Ghaus Pasha raised the issue of relieving the public of falling oil prices on the world market.
اسٹیٹ بینک نے 1 کھرب روپے مالیت کے قرضوں کی مدت میں توسیع کر دی
منگل کو فیض اللہ کاموکا کی زیرصدارت قومی اسمبلی کی فنانس کمیٹی کا اجلاس ہوا۔ اسٹیٹ بینک کے گورنر رضا باقر نے قائمہ خزانہ کمیٹی کے ممبروں کو ویڈیو لنک کے ذریعے قرضوں ، پروگراموں اور سہولیات سے آگاہ کیا۔ اسٹیٹ بینک کے گورنر رضا باقر نے کہا کہ اسٹیٹ بینک آف پاکستان (ایس بی پی) نے گذشتہ دو ہفتوں میں ایک کھرب روپے کے قرضوں کی مدت میں توسیع کردی ہے ، اور مزید کہا کہ سود کی ادائیگی میں بھی تاخیر ہوئی ہے۔ باقر کے مطابق ، سود کی شرحوں میں 4.25٪ کی کمی کی گئی ، جو دنیا کی سب سے بڑی کمی ہے۔ جمعرات کے روز ، پاکستانی مرکزی بینک نے اپنی اہم شرح سود میں 2٪ کمی کردی۔ نئی شرح 11٪ سے 9٪ ہوگئی۔ وزیر اعظم کے امدادی پیکیج پر بریفنگ کے دوران ، وزیر خزانہ نے کہا کہ 100 ارب روپے کا ہنگامی فنڈ قائم کیا گیا ہے۔ اس پروگرام میں نیشنل ڈیزاسٹر مینجمنٹ اتھارٹی (این ڈی ایم اے) کے لئے 25 ارب روپے رکھے گئے ہیں۔ سیکرٹری خزانہ نے بتایا کہ حکومت خوراک کی کمی کو دور کرنے کے لئے صوبوں کے ساتھ مل کر کام کر رہی ہے۔ انہوں نے کہا کہ آئی ایم ایف کے 1.4 بلین ڈالر بھی امداد پر خرچ ہوں گے۔ عائشہ غوث پاشا نے عالمی منڈی پر عوام کو تیل کی قیمتوں میں کمی سے نجات دلانے کا معاملہ اٹھایا۔