پاکستان نے جنوبی افریقہ کے خلاف ٹیسٹ سیریز کے لئے اسکواڈ کا اعلان کردیا
Pakistan has announced the squad for the Test series against South Africa on Friday.
Pakistan and South Africa will play a series of two Test matches and three T20 Internationals. The first Test will be played in Karachi from January 26.
Schedule of Pakistan vs South Africa Test matches
Pakistan v South Africa, first Test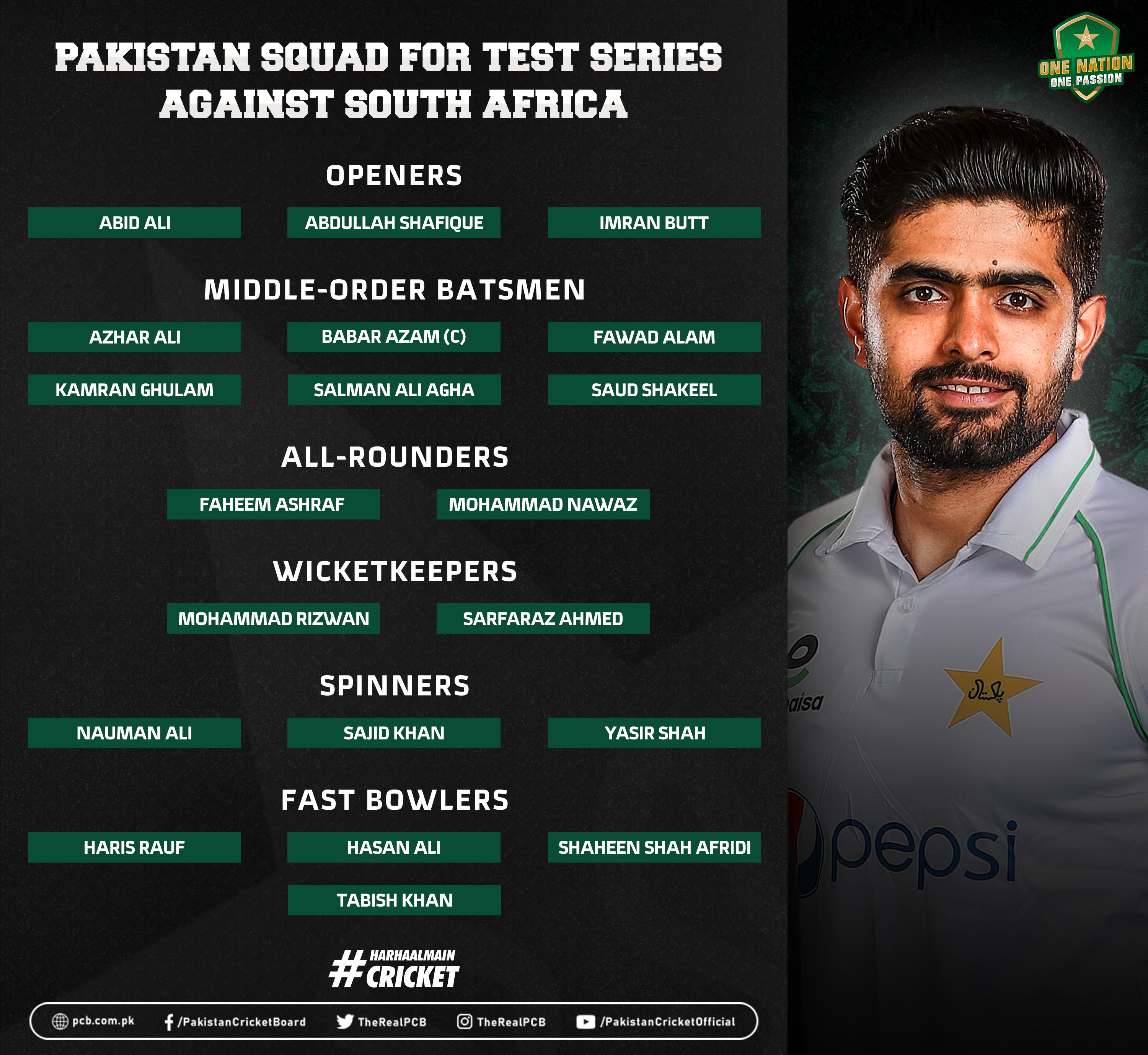 Tuesday, January 26, 2021 January 30, 2021
National Stadium, Karachi
Pakistan v South Africa, 2nd Test February 04,
Monday, February 08
Rawalpindi Cricket Stadium, Rawalpindi
Pak vs South Africa T20I
Schedule Pakistan v South Africa,
1st T20 February 11,
Gaddafi Stadium, Lahore
Pakistan v South Africa, 2nd T20
Saturday, February 13
Gaddafi Stadium, Lahore
Pakistan v South Africa,
3rd T20 Sunday, February 14
Gaddafi Stadium, Lahore
پاکستان نے جنوبی افریقہ کے خلاف ٹیسٹ سیریز کے لئے اسکواڈ کا اعلان کیا ہے۔
پاکستان اور جنوبی افریقہ کے درمیان دو ٹیسٹ میچوں اور تین ٹی ٹوئنٹی انٹرنیشنل میچوں کی سیریز کھیلی جائے گی۔ پہلا ٹیسٹ 26 جنوری سے کراچی میں کھیلا جائے گا۔
پاک بمقابلہ جنوبی افریقہ ٹیسٹ میچوں کا شیڈول
پاکستان بمقابلہ جنوبی افریقہ ، پہلا ٹیسٹ
جنوری26 2021 ، منگل۔ 30 جنوری ، 2021
نیشنل اسٹیڈیم ، کراچی
پاکستان بمقابلہ جنوبی افریقہ ، دوسرا ٹیسٹ
08 فروری ، سوموار
راولپنڈی کرکٹ اسٹیڈیم ، راولپنڈی
پاک بمقابلہ جنوبی افریقہ ٹی ٹوئنٹی انٹرنیشنل شیڈول
پاکستان بمقابلہ جنوبی افریقہ ، پہلا ٹی ٹونٹی
11 فروری ،
قذافی اسٹیڈیم ، لاہور
پاکستان بمقابلہ جنوبی افریقہ ، دوسرا ٹی ٹونٹی
13 فروری ، ہفتہ
قذافی اسٹیڈیم ، لاہور
پاکستان بمقابلہ جنوبی افریقہ ، تیسرا ٹی ٹونٹی
14 فروری ، اتوار
قذافی اسٹیڈیم ، لاہور