پاک فوج نے بارش سے متاثرہ کراچی میں امدادی کارروائی شروع کردی: آئی ایس پی آر
کراچی میں مون سون بارشوں کی چوتھی بارش کے بعد پاک فوج نے امدادی کارروائی کا آغاز کیا جس کے نتیجے میں اس شہر کا نکاسی آب کا نظام چیلنج کے مقابلہ میں فلیٹ پڑ گیا اور میٹروپولیٹن شہر افراتفری کی لپیٹ میں آگیا۔
انٹر سروسز پبلک ریلیشنز (آئی ایس پی آر) کے مطابق پاک فوج نے بارش سے متاثرہ کراچی میں امدادی کارروائی شروع کردی ہے۔ ڈی واٹرنگ پمپ اور دیگر ضروری سامان کے ساتھ فوج کی امدادی ٹیموں نے میٹروپولیس کے نشیبی علاقوں میں جمع پانی کو نکالنا شروع کردیا ہے۔
آئی ایس پی آر نے بتایا کہ ریسکیو ٹیمیں میٹروپولیس کے مختلف علاقوں میں بارش کے پانی میں پھنسے لوگوں کو نکال رہی ہیں۔ شہریوں کے سیلاب کے ساتھ ساتھ کسی بھی دیگر ناخوشگوار واقعے سے نمٹنے کے لئے مزید امدادی ٹیمیں چوکس ہیں
کراچی کے شہری سیلاب کے مسئلے کے خاتمے کے لئے ، وزیر اعظم عمران خان نے گذشتہ ہفتے ہی نیشنل ڈیزاسٹر مینجمنٹ اتھارٹی (این ڈی ایم اے) اور پاک فوج دونوں کو اس خطرناک صورتحال سے نمٹنے کے لئے مقامی انتظامیہ کی مدد کی ذمہ داری سونپی تھی۔
The Pakistani army began the relief operation after Karachi was hit by monsoon rains for the fourth time. As a result, the city's drainage system fell flat against the challenge and the metropolis fell into chaos.
According to Inter Services Public Relations (ISPR), the Pakistani army has started a relief operation in the rain-hit Karachi. Army rescue teams, along with drainage pumps and other necessary equipment, have started draining the water that has accumulated in lower areas of the metropolis.
Rescue teams are evacuating people trapped in rainwater in different areas of the metropolis, ISPR said. More rescue teams are on alert to deal with city floods and other nasty incidents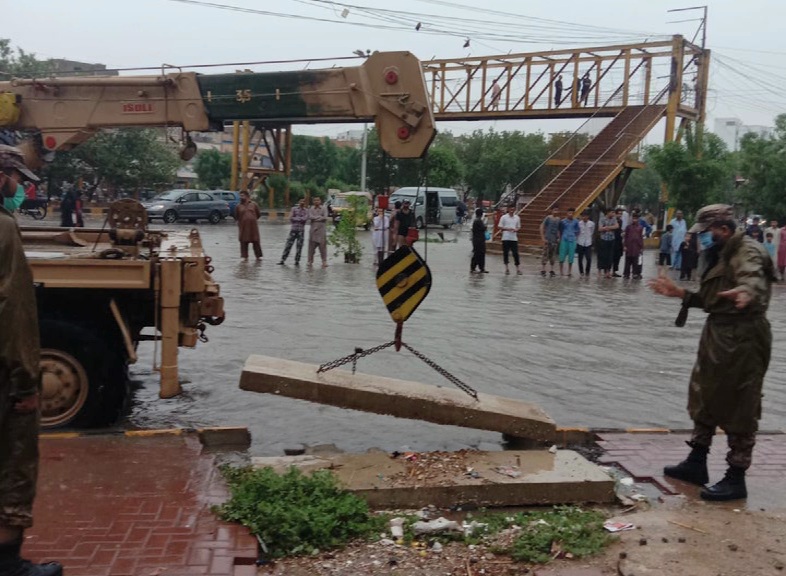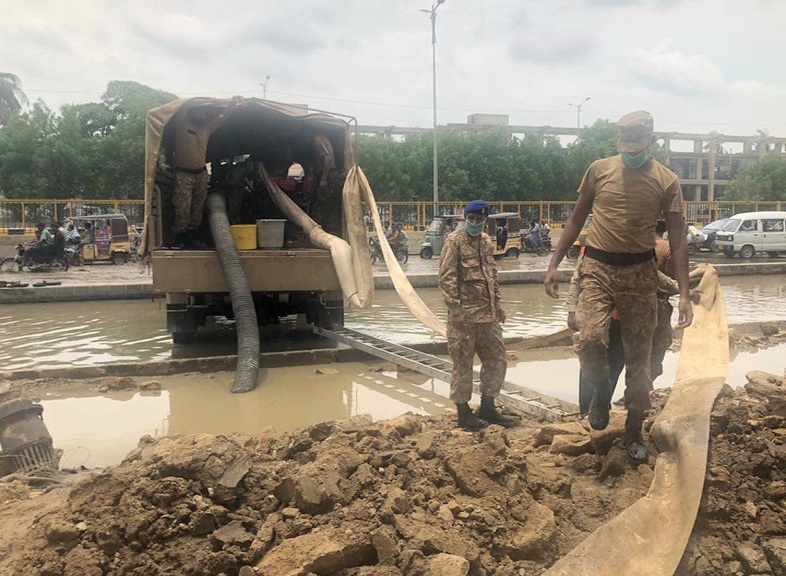 To alleviate the problem of urban flooding in Karachi, Prime Minister Imran Khan hired both the National Disaster Management Authority (NDMA) and the Pakistani Army last week to assist local authorities in dealing with the dangerous situation.