گوگل میپس میں مزید خصوصیات کے ساتھ اضافہ
گوگل نقشہ جات پچھلے 15 سالوں میں مستقل طور پر اب تک جو کچھ بنتا ہے ، تیار ہوا ہے ، روزانہ سفر کرنے یا دریافت کرنے کا ایک ساتھی جیسے متعدد ریئل ٹائم نیویگیشن ، مقبول اوقات ، آف لائن نقشے اور بہت کچھ۔ گوگل میپس کو تازہ ترین اپ ڈیٹ کرنے کا ارادہ ہے اس ایپ میں اور بھی مزید تفصیلات لانے کا۔
لوگوں کو بہتر طور پر سمجھنے میں مدد کرنے کے لئے بصارت میں بہتری کے ساتھ ساتھ سڑکوں ، فٹ پاتھوں ، عمارتوں ، سڑکوں کے لئے زیادہ درست نقشہ جات ہیں جو علاقے کی طرح دکھتا ہے۔
عالمی سطح پر کسی علاقے کا زیادہ جامع ، متحرک نقشہ بنانے کے لئے سرچ انجن دیو نے کلر میپنگ الگورتھم کا استعمال کیا ہے۔ اس سے لوگوں کو نقشے پر دریاؤں ، ساحل ، صحراؤں ، شہری علاقوں وغیرہ میں آسانی سے فرق کرنے میں مدد ملنی چاہئے۔ یہاں پرانے گوگل میپ اور نئی اپڈیٹ کے مابین ایک موازنہ ہے۔
جہاں تک اسٹریٹ لیول کے نظارے کے بارے میں ، گوگل کا کہنا ہے کہ ہم جلد ہی انتہائی مفید معلومات دیکھ سکیں گے جو سڑکوں کی درست جہت دکھائے گی۔ یہ آپ کو فٹ پاتھوں ، کراس واکوں کے عین مطابق مقامات دکھائے گا اور وہیل چیئرز یا ٹہلنے والے تقاضوں جیسے رسائ کی ضروریات کے لئے بھی اہم معلومات دکھائے گا۔
تفصیلیسٹریٹ میپس
گوگل آئندہ ہفتوں میں لندن ، نیویارک اور سان فرانسسکو کے بارے میں تفصیلی نقشوں اور رنگوں کو بالآخر دنیا بھر میں وسعت دینے کے منصوبوں کے ساتھ بھیج رہا ہے۔
Google Maps has evolved over the last 15 years on a permanent basis, with a companion for daily travel or exploration, such as multiple real-time navigation, popular times, offline maps and more. The latest update to Google Maps is intended to bring even more details to this app.
There are more accurate maps for roads, sidewalks, buildings, roads that look like the area, along with improved vision to help people understand better.
The search engine giant has used color mapping algorithms to create a more comprehensive, dynamic map of an area globally. This should help people to easily differentiate between rivers, beaches, deserts, urban areas, etc. on the map. Here's a comparison between the old Google Maps and the new update.
As for the street level view, Google says that we will soon be able to see very useful information that will show the right direction of the roads. It will show you the exact locations of sidewalks, crosswalks and important information for access needs such as wheelchairs or walking requirements.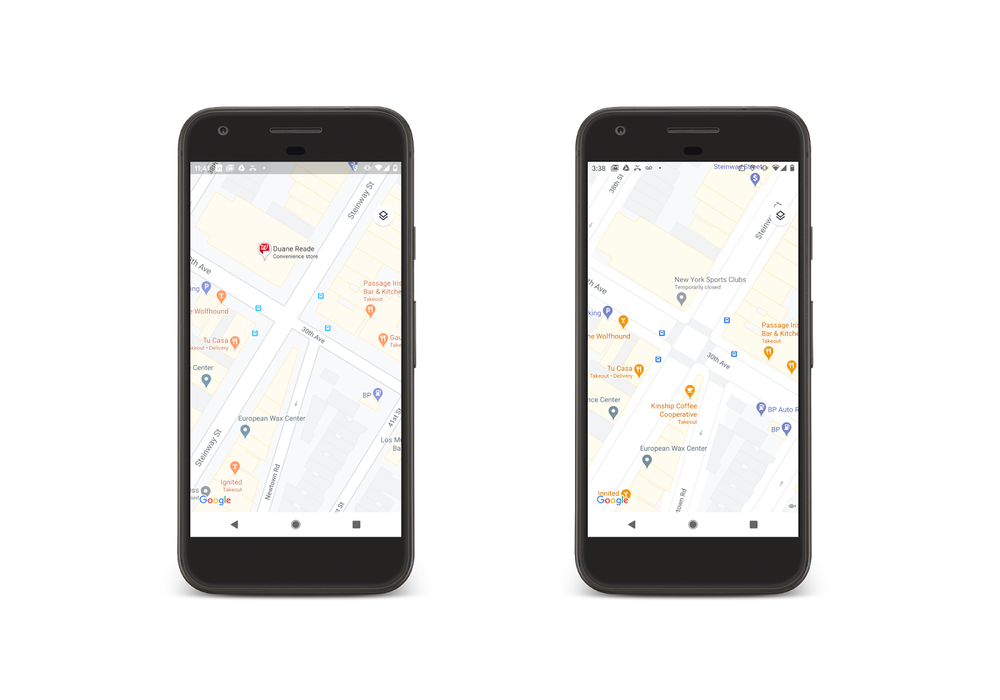 Detailed_street_maps
Google is sending detailed maps and colors about London, New York and San Francisco in the coming weeks with plans to finally expand around the world.