قومی کرکٹ ٹیم نیوزی لینڈ پہنچ گئی
پاکستان کرکٹ ٹیم تین ٹی ٹونٹی اور دو ٹیسٹ میچ کھیلنے کے لئے نیوزی لینڈ پہنچی ہے۔
یہ ٹیم ، جس میں 34 کھلاڑی اور 20 اہلکار شامل ہیں ، ہلٹن ہوٹل میں قیام پذیر رہیں گے اور وہیں 14 روز تک کوئارنٹائن کریں گے۔
نیوزی لینڈ حکومت کی ہدایت کے مطابق گرین شرٹس اسکواڈ اپنے 14 دن کے وقفے سے متعلق مدت کے دوران تین کورونا وائرس ٹیسٹ کروائے گی۔
ذرائع کا کہنا ہے کہ اگر پہلی کورونا وائرس کی رپورٹ منفی نکلی تو ، کھلاڑیوں کو مختلف گروپوں میں تقسیم کیا جائے گا جس کے بعد بایوسیکور ماحول میں گروپ کو تنہائی کے پہلے تین دن کے بعد تربیت دینے کی اجازت ہوگی۔
یہاں یہ تذکرہ کرنا مناسب ہے کہ پہلا کورونا وائرس ٹیسٹ 25 نومبر کو کیا جائے گا۔
پاکستان اور نیوزی لینڈ کے درمیان 18 دسمبر سے شروع ہونے والی تین میچوں کی ٹی ٹونٹی سیریز کھیلی جارہی ہے۔ دو ٹیسٹ میچوں کی سیریز کا آغاز باکسنگ ڈے (26 دسمبر) سے ہوگا۔
اسکواڈ:
بابر اعظم (سی) ، عابد علی ، عبد اللہ شفیق ، فخر زمان ، امام الحق ، شان مسعود ، ذیشان ملک ، اظہر علی ، دانش عزیز ، فواد عالم ، حیدر علی ، حارث سہیل ، حسین طلعت ، عمران بٹ ، افتخار احمد ، خوشدل شاہ ، محمد حفیظ ، محمد رضوان ، روحیل نذیر ، سرفراز احمد ، عماد وسیم ، شاداب خان ، عثمان قادر ، یاسر شاہ ، ظفر گوہر ، عماد بٹ ، فہیم اشرف ، حارث رؤف ، محمد عباس ، محمد حسنین ، موسیٰ خان ، نسیم شاہ ، شاہین آفریدی ، سہیل خان ، وہاب ریاض۔
Pakistan cricket team has arrived in New Zealand to play three T20 and two Test matches.
The team, which includes 34 players and 20 personnel, will stay at the Hilton Hotel and quarantine for 14 days.
The Green Shirts Squad will test three corona viruses during its 14-day break, as directed by the New Zealand government.
Sources said that if the first corona virus report is negative, the players will be divided into different groups, after which the group will be allowed to train in a biosecure environment after the first three days of isolation.
It is pertinent to mention here that the first corona virus test will be performed on November 25.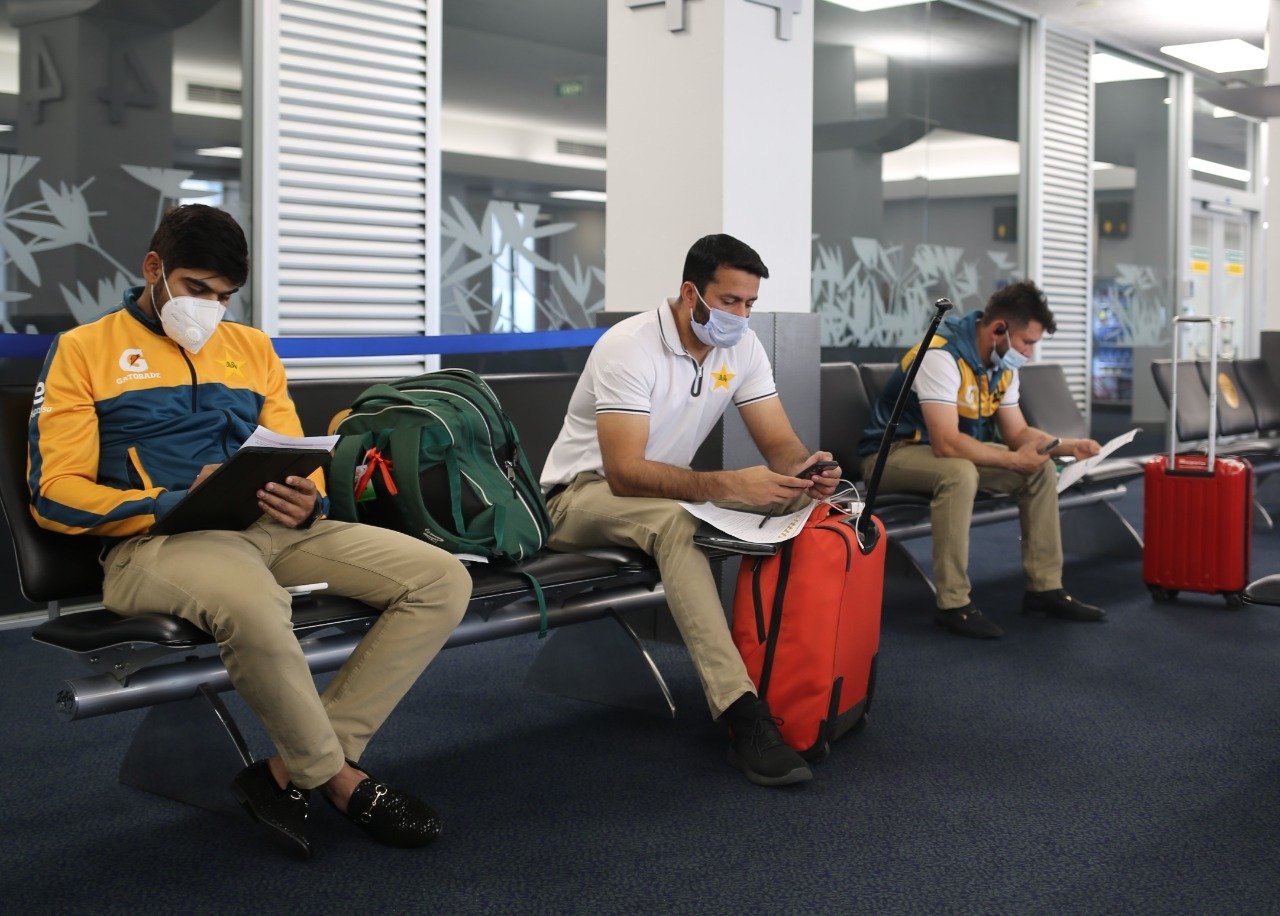 Pakistan and New Zealand are playing a three-match T20 series starting December 18. The two-Test series begins on Boxing Day (December 26).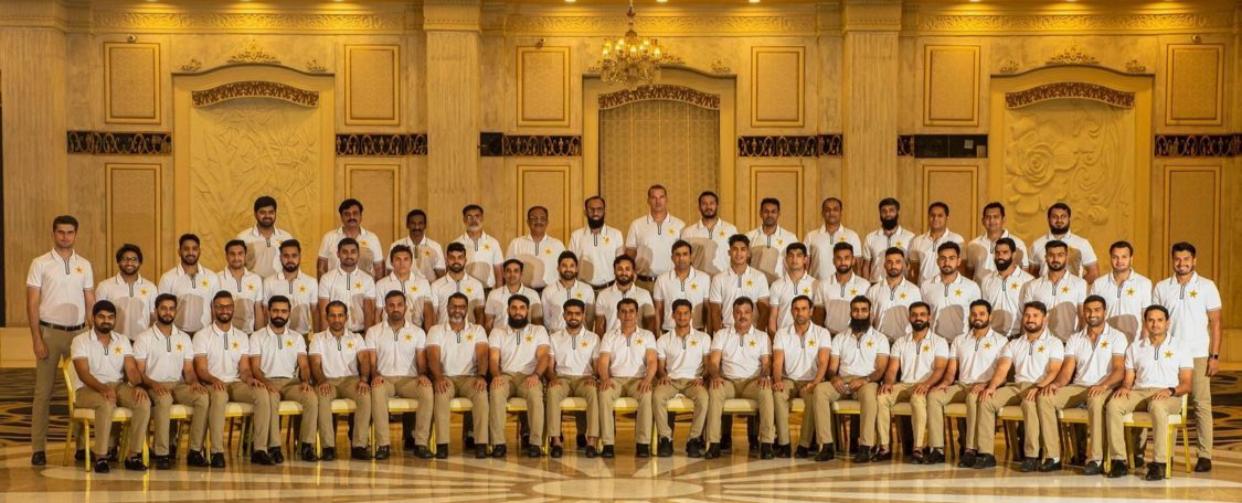 Squad:
Babar Azam (C), Abid Ali, Abdullah Shafiq, Fakhr Zaman, Imamul Haq, Shaun Masood, Zeeshan Malik, Azhar Ali, Danish Aziz, Fawad Alam, Haider Ali, Haris Sohail, Hussain Talat, Imran Butt, Iftikhar Ahmed, Khushdal Shah, Mohammad Hafeez, Mohammad Rizwan, Rohail Nazir, Sarfraz Ahmed, Emad Wasim, Shadab Khan, Usman Qadir, Yasir Shah, Zafar Gohar, Emad Butt, Fahim Ashraf, Haris Rauf, Mohammad Abbas, Mohammad Hasnain, Musa Khan, Naseem Shah, Shaheen Afridi, Sohail Khan, Wahab Riaz.